Celebrity Beauty: The Most Wanted Celeb Body Parts Are... (PHOTOS)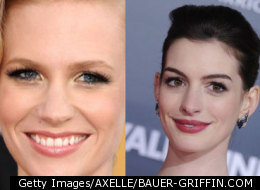 A few months ago, we told you about the ultimate celebrity beauty -- according to a British-based beauty website, FeelUnique.com. The survey asked readers, polling some 9,350 shoppers as to which celebrities' body parts (mostly in the facial region) they coveted most.
And now, Australia's Marie Claire magazine has done the same thing -- coming up with an image of the ideal woman. According to the DailyMail, the mag team contacted leading surgeons from around the world and pulled together the most requested celebrity body parts as received by said "experts" over the past 12 months.
The results include:
What do you think of these results? Don't get us wrong, we're all for doing a bit of primping and preping to look good and feel more confident every morning, but thinking there's only one "ideal" look to a woman? That's just plain weird. We all look amazingly beautiful in our own ways. No?