Heart Truth Fashion Show: Canadian Celebrities Raise Awareness For Heart Disease (PHOTOS)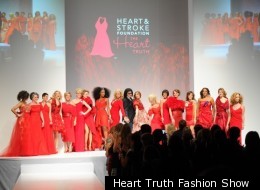 Canadian celebrities had one colour in mind when they hit the runway last night: red.
Canadian powerhouses like actress Lisa Ray, singer Jully Black and television personality for The Global Morning Show Liza Fromer all donned specially designed red gowns for the annual Heart Truth Fashion Show on Thursday, also celebrating International Women's Day.
The event, which not only highlights some of Canada's most popular and rising female talent, it also raises awareness for heart disease and stoke, the number one killer for women in Canada, according to the Heart and Stroke Foundation.
Similar to the annual Heart Truth Fashion Show during New York Fashion Week, this show was a kick-off for Toronto Fashion Week, which officially starts on Monday. Runway designers included Canadian favourites like Adrian Wu, Joeffer Caoc, David Dixon and MICALLA -- many of them which will have their spotlight again during Toronto Fashion Week.
Check out the runway show and let us know you favourite look in the comment section below:
Heart Truth Fashion Show Hits Canada
Actress Lisa Ray in Farley Chatto.

Singer Jully Blacks in Lauren Bagliore

Television host Jessi Cruickshank wearing Adrian Wu.

Actress Tamara Taylor wearing Mark Belford.

Journalist Isabelle Maréchal wearing Anne de Shalla.

Olympic Gold Medallist Catriona Le May Doan wearing LOVAS.

Canadian television personality Natasha Gargiulo wearing MICALLA.

Toronto based singer Divine Brown wearing Freda's.

Actress Pascale Hutton wearing Paul Hardy.

Actress Susan Haskell wearing David Dixon.

Actress Lauren Lee Smith wearing Ines Di Santo.

Morning Show Host Liza Fromer wearing Mallia.

Actress Jessica Steen wearing Joeffer Caoc.

Actress Ali Liebert wearing Momo.

Television personality Angie Seth in Thien Le.

Actress Gabrielle Rose wearing Something Blue Vancouver.