Beauty Tips: Pull Together A Look In One, Five And 10 Minutes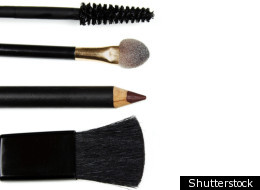 When it comes to beauty, most people would say time isn't always on our side.
Foundation, mascara or lipstick? Sometimes, we may not know what to fill our makeup bags with. And more often than not, we have little to no time to pull together a full "look."
So we talked to makeup artists Seema Haider of Ottawa and Emma Young of St. John's, N.B. to grab their favourite tips on beating the beauty clock.
If you have one minute of time to focus on your face, Haider recommends zoning in on your skin. "Even out your skin tone and add a bit of definition." Keeping a lip gloss or a compact-sized cream blush is another way to accentuate a quickly pulled together look.
If you happen to have five minutes on your side, Haider recommends adding a few more steps to your beauty routine. "Add face primer, eyelid primer, a flesh-toned shimmery eyeshadow and a black, charcoal or brown eyeliner."
According to Young, carrying a lip stain and mascara is a must.
If, somehow, you manage to give yourself 10 minutes to get ready, you have enough time to have some beauty fun. "Take your look from professional and polished to evening ready and let down your hair. You can add bronzer, powder blush, highlighter, brow powder and lipstick or liner," Haider says.
Check out Haider's tips and Young's product recommendations in the below slideshow. What are your tips for pulling together a look in 60 seconds or less? Let us know in the comments below.
Makeup Tips One, Five And 10 Minutes
If you only have a minute, think about your skin tone first. "A stick foundation is an easy and quick way to apply foundation to your face in a few quick swipes. Apply it to the forehead, cheeks and chin and blend outwards to the edges of your face. This way you avoid the dreaded mask like appearance," says Ottawa-based makeup artist Seema Haider.

Yves Rocher Radiance Corrector Pen, $10. Available at Yves Rocher.

Cream or powder blush can also do the trick in less than a minute. "Apply using your fingers and blend over the apples of the cheeks. Don't have a cream blush? No problem! Grab your lipstick and apply to the cheeks the same way," Haider says.

NARS in 'Orgasm', $28. Available at Sephora.

Lip gloss is another quick way to add colour. "Use a gorgeous coral toned gloss for your lips and instantly brighten your look. Fresh and beautiful for spring," Haider says.

NARS Lipgloss in 'Orgasm', $24. Available at Sephora.

If you do have five minutes in the morning, you could add a few more steps to your makeup routine. The right eyeliner is the first stop. "Use eyeliner in neutrals like black, grey or brown and dot it along to upper lashline. You can use a smudge brush to blend out the liner and give soft definition to your eyes," Haider says.

MAC Powerpoint Eye Pencil, $15. Available at MAC Cosmetics.

Lipstick and a matching lipliner is a great addition to your routine -- if you have the time. "To finalize your glam look, use a flesh-toned lip liner to enhance the shape of your lips and fill in with a similar colour lipstick or the liner," Haider says.

Rimmel Lasting Finish Lipstick 'In Vogue', $7. Available at retailers across Canada.