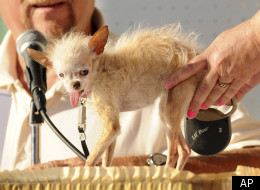 She was ugly, but that's what made her a winner. It's also how Yoda, the champion of the 2011 World's Ugliest Dog contest, will be remember by after passing away last Saturday. The 1.8 lb Chinese Crested and Chihuahua mix-breed won first place at the contest at the Sonoma-Marin Fair in California. The scrappy 15-year-old pooch beat out 29 other competitors with her scraps of hair, hanging tongue and legs that mimicked a balding man's hairline.
According to her owner, Terry Schumacher, Yoda passed away in her sleep.
"Say a prayer today 4 my YODA...rest in peace 3-10-12," said Schumacher in an email regarding Yoda's passing. "She passed away last night in her sleep. I will miss her funny little ways! But comforted knowing she will be joining my Mom and Dad, who loved her so much! Her memories will live on forever!!!" reports the Hanford Sentinel.
While it was Schumacher who took Yoda to win the Californian dog show and the $1000 grand prize, it was actually his daughter who found the dog behind an apartment building. Schumacher at the time mistook the pooch for a rat.
Despite being deceased, Yoda will hold onto her title until the 2012 World's Ugliest Dog contest according to contest producer Vicki DeArmon.
If you thought Yoda was a little rough on the eyes, get a good look at these 10 unsightly creatures that could offer any W.U.D. champion some extra competition:
Dog lovers and cat lovers can set aside their differences and agree upon one thing: Sphynx cats are pretty unsightly. Despite their Egyptian-inspired name, this breed is actually Canadian. The first Sphynx cat was born in Toronto after a domestic cat gave birth to a hairless kitten due to a natural mutation. .

No, that's not a miniature albino walrus you're looking at, though the resemblance is uncanny. According to National Geographic, the naked mole rat is one of 30 species of mole rats in the world. A study from the University of Rodchester has also revealed that these hairless critters have a high resistance to cancers.

This is the Aye-Aye. Aye-Aye is also what you'll probably scream out during a nightmare if this animal and its glaring yellow eyes enter your dreams. Native only to Madagascar, the Aye-Aye are fans of finger foods. That's because of their long, slender fingers that they use to pull out grubs found in trees when hunting nocturnally. (Photo courtesy of Flickr/ Frank.Vassen)

"Why Tarsier, what big eyes you have." "All the better to see you with", said the small primate native to Southeast Asia. Distinguished by their large eyes, these animals have eyeballs as large as 16 mm in diameter -- the same size as their brains.

The second mole to join the list, the star-nosed mole looks like something from a John Carpenter horror film but is actually an animal that prefers to swim and dig tunnels year round. It's characterized by the eleven pairs of pink fleshy appendages that surround their snout. These feelers help the mole move around through touch. (Photo courtesy of Flickr/gordonramsaysubmissions)

While it resembles the illegitimate love child of a lizard and a fish, the Axolotl is actually a type of salamander native to Mexico. The amphibian is so well known for its frilly gills that it is sometimes taken in as a pet. (Photo courtesy of Flickr/Jan Tik)

One look at this critter and you can understand why Batman chose the bat as a symbol to strike fear into the heart of his enemies. The bat gets its name from the shape of its squashed nose and horseshoe-shaped nostrils. It can be found hanging out in areas such as southern Europe, Africa, parts of Asia and eastern Australia. (Photo courtesy of Flickr/Schmeegan)

At first glance, the hagfish may look more like an eel than a fish, but what makes the hagfish ugly isn't its appearance -- it's the way it defends itself. When attacked, the hagfish releases a goo that turns into mucus as soon as it comes into contact with water. It's the equivalent of playing tag with a kid who always sneezes on you every time you catch them. Gross. (Photo courtesy of Flickr/dirtsailor2003)

The blob fish has good reason to look miserable: it is on the verge of extinction due to overfishing, after all. Native to the coast of Australia, it's endangered because of fishers who capture them using crawnets despite the fact that they're inedible. Blob fish get around by floating near the bottom of the ocean floor and will eat whatever they can catch. (Photo courtesy of Flickr/Claf Hong)

If there was ever an animal that proves beauty is only skin deep, it would have to be the monkfish. While gruesome by appearance, the monkfish is actually a delicacy in Canada and the US. The tail meat has a similar texture to lobster, thus earning the nickname "the poor man's lobster".