Proposal Day: Is March 20 The Day To Pop The Question?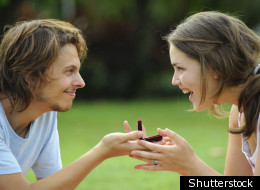 Have you spent the past few months looking down at your naked ring finger, impatiently wondering, "I wonder when my guy (or gal) is going to put some bling on it"? Well, look out, because today is Proposal Day!
Proposal Day is set aside for future brides and bridegrooms to stop hesitating and pop the question -- in addition to Valentine's Day, holidays, birthdays, vacations, and, well, every other day of the year.
A man named John Michael O'Loughlin invented the holiday after his cousin's boyfriend strung her along for years without sealing the deal decades ago, Holidash says. Enough already, he thought, and dedicated a day to marriage proposals.
Proposal Day falls on the Vernal Equinox, at which point day and night are equal lengths. A second Proposal Day occurs during the Autumnal Equinox in September. O'Loughlin says he chose to nudge procrastinating young lovers into matrimony on these days because the equinoxes symbolize "the equal efforts of the two required to comprise the successful marriage," Savings.com reports. Not to mention the spring awakening that hormones seem to get in March.
But couples shouldn't get carried away. The holiday is also meant to spark a conversation about the possibility of a future proposal, according to ProposalDay.com. Besides, nowadays couples wait longer before tying the knot; roughly 27 per cent of women whose partners had popped the question said they dated their partner for three to five years, bridal style-finder Tailored discovered in a poll.
So maybe your ring finger, like O'Loughlin's cousin, just has to wait -- until next Proposal Day, that is.
Read more proposal statistics from Tailored:
In honour of National Proposal Day, Tailored conducted a poll to see how modern brides' proposals compared.

The majority of women polled -- a whopping 85 per cent -- wanted to say "I do" because they truly loved their partner. Ten per cent wanted to settle down and start a family, four per cent heard their biological clock ticking, and 0.1 per cent were saving sex for marriage and wanted to do the deed with their lover.

Fifty-nine per cent of women said they didn't put the screws to their partner about proposing because they both talked about getting engaged, while 21 per cent admitted to pushing their partner -- they couldn't stop talking about getting hitched!

Asking the father for his daughter's hand in marriage is no longer the norm. Forty-five per cent said their partner asked both parents for permission before popping the question, 34 per cent didn't ask permission at all, 13 per cent only asked the bride-to-be's father, and eight per cent only asked the mother.

Proposing marriage on bended knee is still an important tradition (or cliche, depending on who you ask); 78 per cent of women polled said their fiancé bent down on one knee.

How long does it take a girl to change her Facebook status from "in a relationship" to "engaged"? Eighty-five per cent of betrothed women waited to Facebook their engagement until they shared the news with friends and family. Ten per cent Facebooked the news ASAP and five per cent of women said their friends commented about the engagement, but they haven't updated their status.