I'm Pregnant And I Know It: Newest LMFAO Song Parody Goes Viral (VIDEO)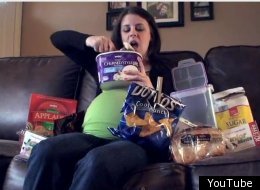 Angela Profitt may be days away from delivering a baby, but that didn't stop her and her husband, Tommee Profitt, from making a video parody of LMFAO's "Sexy And I Know It".
It took the Michigan couple two days of filming to put the piece together and -- after being posted on Monday -- has hit 400,000 views on YouTube.
The video features Angela dancing around and mocking many of the "side effects" of pregnancy like weight gain, strange cravings (who eats ice cream and Cool Ranch Doritos?) and missing out on seeing your own feet. Tommee provides vocals.
In an interview with WZZM, Tommee told viewers the couple were surprised by the video's popularity.
"She's so shy and I make videos all the time for YouTube and stuff, and I had to coax her to be on camera. It figures the one time she agrees, the [video] explodes and goes viral." He adds: "I'm super proud of her and owe her big time."
Can't get enough of "Sexy And I Know It" parodies? Neither could we. Check out some some more spoofs the internet has to offer.
Sexy And I know It Parodies
Zerglings? The MLG? Cheesing? If these terms make no sense to you then you're probably not a nerd. But that shouldn't stop you from enjoying this geeky take on LMFAO's hit song.

If you ever thought teachers didn't care about their students then you haven't met the faculty at Indian Hill Elementary School. The staff put together this video parody to help students get excited about the Illinois State Achievement Tests.

Getting a job right after graduating university or college can be tough but that's where "Successful and I Know It" comes into play. The video parody started off as an ad campaign for a career expo at the University of New South Wales but that doesn't mean it can't be used to get anyone in the job-hunting mood with great success.

Leave it to the gang at Sesame Street to take a song about sex appeal and give a G-friendly rating. Rather than featuring footage of grown men engaging in a strip off at a bar, this kid-friendly version features Elmo riding around on a tricycle, hanging out with the First Lady and being all-around adorable.

The day when Canadian music icon Neil Young and Bruce Springsteen singing Sexy And I Know It on stage live may never come but this video gives us a good idea of what it would be like. Here, the Boss himself jams out with Young impersonator, Jimmy Fallon, on an episode of Fallon's late night show.

To anyone who doubted the internet's ability to combine Kris Kringle and a LMFAO song, you ought to see this video. The timing may be three months late (or nine months early depending on who you ask) for Christmas but it does a good job of capturing both the nice and naughty sides of Santa.