Jessi Cruickshank: A Peek Inside Her Smartphone (PHOTOS)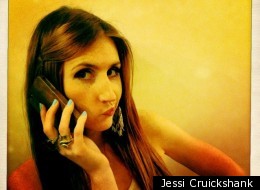 Jessi Cruickshank's stylish, friendly and she's definitely a gal on the go.
The sartorially savvy former co-host of 'The After Show' on MTV (including 'The Hills: The After Show' and 'The City: Live After Show' with her pal Dan Levy) recently made the move to L.A. where she's had a packed schedule interviewing stars like Ryan Reynolds and Bradley Cooper.
So how does one of our favourite Canucks stay in touch with her friends and family back in Toronto?
The answer: her iPhone. And she's given us, the Style team at The Huffington Post Canada, and Best Buy Mobile a sneak peek into her I-can't-live-without-it accessory.
What are her favourite style apps? What images would you find on the sweet starlette's cellphone? What do some of her texts read? Click through the below slideshow to see what she keeps under her phone's covers.
Jessi Cruickshank: A Peek Inside Her Smartphone (PHOTOS)
"I hate photo shoots, but I happen to love this picture from an old 60s themed [one I did]. I don't look like I'm sneezing or constipated, which is an achievement for me."

"This is what comes up when my Dad calls. Which is usually to remind me about taxes or RRSPs or some kind of exciting life business that I would inevitably forget without him. Taken at the Vancouver Canucks game. He's the one on the right, obviously."

"I am not one of those people who is too good to ask a famous person for a picture. I keep this one of Shaq and I on my phone because it makes me feel particularly petite."

"This is the picture that comes up when my mom calls... And she calls a lot. It's an actual poster from when she ran for homecoming queen at McGill University in Montreal."

"A sampling of consecutive text messages from my mother. Safe to say she is, and has always been, very supportive. "

"I ordered this reclaimed wood iPhone case from 'RivertonWoodcraft' on Etsy. Practical, chic and eco-friendly!"

When it comes to Apps, Jessi can't live without: "Checking my Twitter, Facebook and Instagram at least 10 times per day. It's a problem. Newser is how I get all the day's news, abridged. I usually check it first thing in the morning from bed, with one eye glued shut and drool on my chin. And SnapChat [is something] my pre-teen cousin introduced me to... The 13-year-old girl in me is obsessed. It's real-time chatting with pictures, so we can communicate with classy and mature images, like [the one you see here]."

"I just took this during a Skype chat with my three best friends in Toronto... I miss them! I am also, clearly, a phenomenal CTV employee."

"I teach a special needs drama class on the weekends and this is a pic I just took from our play last week."