2012 Design Trends: What's Your Decor Personality? (PHOTOS, QUIZ)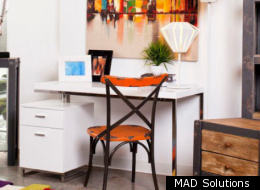 If you're looking for a way to spruce up your home décor this season, here's a little something to help you out.
The experts at MAD Solutions Designs have come up with a custom quiz that will help you define your tastes. Simply answer some questions about your activity habits, style preferences and the colours that excite you, and you'll easily figure out how to decorate your space for spring.
Happy decorating!
What's Your Décor Personality?
A.The newest fine dining restaurant in town B.Your local roadhouse or pubC.Some place serving an interesting Thai/Japanese fusion dish

A.Lovely stroll past the local shops B.Your new BMWC.Your bike

A.Your local fresh produce market B.An organic food shopC.A grocery store

A.Reading the paper or a good book while listening to your favourite music B.Drinking your favourite cocktail with friendsC.Yoga or a good run through the park

A.Primary (red, blue, yellow) B.Secondary (purple, green, pink)C.Neutral (white, black, brown, grey)

A.Quality B.StyleC.Comfort

A.Still love my antiques and vintage findsB.I would definitely include a visit to a high-end furniture storeC.I plan to reupholster my grandma's chair

A.My preference is quiet country lifeB.I need to be steps away from the latest and greatest in food and cultureC.I want to be near my friends and family

A.Ferris wheel B.Roller-coaster C.Haunted house

A.Jeans and a tee B.It's the power suit for me C.Something dressy

You know how to relax and take time to enjoy life. Art should be an integral part of any design to satisfy your creative and/or possible eccentric side. Incorporating colour and unique items would help define you and your space. Antiques and classic furniture designs are preferred to new modern trends, making your home welcoming and comfortable.

You have an appreciation for the finer things in life and a good eye for design. You like elegance and simplicity and definitely prefer new furniture. Everything needs to be clean, uncluttered and perfectly organized. Neutral colours (white, grey, black, brown) are great as the main colour of your space. You prefer going out to staying in and your home is (or should be) a hot spot for after work cocktails, dinners and weekend brunch.

Your demeanor is likely to be more laid back and casual (while still very professional when you need to be) and your space is designed with purpose in mind. You appreciate simplicity, but would also like to add an element of fun into your space. You tend to favour neutral colours, but incorporate a splash of colour here and there. Both new and old furniture pieces work for you (with a preference toward the new) and you are more likely to focus on practicality, functionality and affordability to style.