Alberta Election 2012: 22 Minutes Gives Hilarious Take On Race (VIDEO)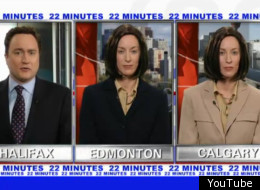 Justin Trudeau's boxing victory and the federal budget dominated political headlines this week, but "This Hour Has 22 Minutes" isn't ignoring the Alberta election.
They're paying attention to the heated battle between Conservative Premier Alison Redford and Wildrose Leader Danielle Smith -- even though they can't tell the difference between the two women.
The Tories have ruled in Alberta for 41 years and Wildrose seems poised to take their place by lifting many of the Conservatives' popular policies -- low taxes, balanced budgets and support for the oil industry.
While Alberta may be ready for change it seems the province also wants most everything to stay the same.
This Hour Has 22 Minutes airs Tuesdays at 8:30 pm on CBC TV. Catch more clips of the show on Facebook and Twitter.