Makeup Mistakes: 10 Mishaps That Can Age You (PHOTOS)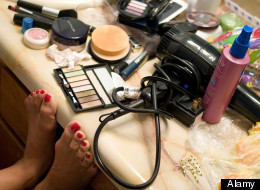 We're all about making life easier. So here, in our regular feature 10 Tips, we'll equip you with tricks that'll make any task -- from buying art to picking the right shade of lipstick -- seem simpler.
Most people would agree spring skin care is about keeping it light and natural. But if you overdo your makeup every morning, you're probably not getting anywhere closer to youthful looking skin.
"It's all about balance. The darker your eyes the lighter your lips should be. The bolder your lips, the less drama you should have on your eyes. It is best to pick one area and focus on it," says makeup artist and owner of MaddPretty Makeover Studio, Jackie Johnson.
For starters, Johnson says knowing your makeup mistakes is the key to fixing them. If you overuse your blush or eyeliner, try using lighter tones or playing with different textures, she says.
"People make these mistakes far too often and it scares others from experimenting with their own makeup," she says.
And even if spring may be about playing it safe with colours, don't be afraid to stand out. "Bold and bright are back in style for lips and eyes," she says.
Here are 10 makeup mistakes that can age you.
Makeup Mistakes You're Probably Making
The texture of our skin changes as we age. "Using too much powder emphasizes lines, dry skin and can actually make skin appear less firm," says makeup artist Jackie Johnson. Tip: Use a cream based foundation product rather than powder based makeup to make the face look and feel more youthful.

If you think your lips are too thin, the cause of your problem could be in your lipstick. "Dark colour recedes making lips appear smaller," says Johnson. Tip: Use a medium to light lip colour to make the lips appear fuller.

The number one rule of beauty: make sure the colour of your face matches your body. "Using bronzer all over the face to make skin appear sun-kissed will make your face darker than the rest of the body," Johnson says. Tip: Use bronzer as a contour only. Place high on your cheekbones to lift the face and enhance them.

Using too much shimmer or glitter can result in your skin looking overdone. Johnson recommends using matte colours.

Over time our hair can become coarse. "Eyebrow hair is less likely to grow back after the age of 40," Johnson says. Tip: Eyebrow fillings can make your brows appear larger and strengthen the natural eyebrow arch.

Remember when only wearing lipliner was in? Today, this trend isn't doing anything for you. "Wearing this look will make you look outdated," Johnson says. Tip: Use a shade the same colour as your lips to allow a natural looking plumped-up lip.

Using too much black, navy, green or light blue eyeliner to line both the top and bottom lashes can make the eyes appear rounder and smaller, Johnson says. Tip: Use eyeliner on the outer edges along the lash line to create a larger almond-shaped eye.

Applying too much or too little blush can also make your skin seem dull. "Skin loses colour and vibrancy over time. Some woman over compensate by applying too much blush in too dark of a shade," Johnson says. Tip: Use a medium- to light-coloured blush to give yourself a youthful glow.

Remember, the biggest makeup mistake is wearing too much of it. "Overdoing both lips and eyes will only make you look like you're wearing too much makeup," Johnson says. Tip: Choose a focal point on your face and stick to it.

"Concealer can be your best friend when covering blemishes," says NYC New York Color artist Mathew Nigara. But if you're using concealer to cover everything else -- your skin may appear heavy and washed out.