One Day Without Shoes 2012: How We Showed Our Soles (PHOTOS)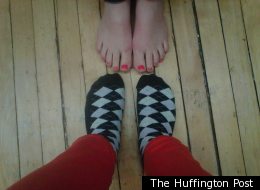 How do you do barefoot? Pretty stylishly, if you ask us.
Yesterday, in honour of TOMS One Day Without Shoes, readers and many of us at AOL/The Huffington Post skipped footwear -- all in an effort to raise awareness about the importance of shoes in our everyday lives (especially the lives of those who don't have them).
From wacky socks to painted toenails (on men and women!) here are some of the ways you showed your soles.
Have an image on how you went barefoot? Send your image to CanadaStyle@huffingtonpost.com or tweet at us @HuffPostCaStyle.
One Day Without Shoes 2012
Pretty feet from our reader @TheKnottyNerd

From reader Katherine Grossfeld at work!

The face behind the feet -- Katherine Grossfeld.

Style editor Sarah Kelsey (feet) and associate editor Arti Patel (socks) pose their feet for TOM's One Day Without Shoes

No shoes at @AOL today, supporting @Toms One Day #withoutshoes

Editor Josh Ostroff of Spinner.ca is not wearing any shoes today.

Our Style intern Matilda is wearing navy blue socks.

@TOMS One day without shoes @AOL #withoutshoes #nicepedicure http://pic.twitter.com/PZpbs8x

At @AOL - We are kicking off our shoes today for @TOMS One Day #withoutshoes #emp

The Huffington Post Canada's news editor Ron Nurwisah on his lunch break.

Grade 5 students in Thornhill, Ont. show off their feet!

Grade 5 teacher Marni Sidenberg shows us her toes.

Nice toes!

From Kristin Ciccone in New York: Today is @TOMS one day #withoutshoes ! Kick off your shoes today.

The Huffington Post Canada's living editor Rebecca Zamon (@RebZam) shows off her stockings.

We are loving AOL's David Shing's black toenails.