Royal Wedding Anniversary: Does Kate's Dress Still Hold Up One Year Later? (PHOTOS)
This time last year there was a whole heck of a lot to say about a dress: Kate Middleton's wedding gown, to be exact.
Ahead of her April 29, 2011 nuptials to Prince William, there was plenty of speculation about who would create her ensemble: not Bruce Oldfield we were told. We even debated what the dress would look like: classic Kate or would she surprise us and go for something modern?
Since then, the dress has been nominated for a design award; there's a Barbie wearing a pint-sized version of the ensemble; and the gown has been displayed at Buckingham Palace.
Designed by Sarah Burton, of Alexander McQueen fame, the dress was gorgeous. It was ornate, but classic -- perfect for a princess. And it resembled one of the most lust-worthy gowns in modern history -- the one worn by Grace Kelly when she wed Rainier III, Prince of Monaco.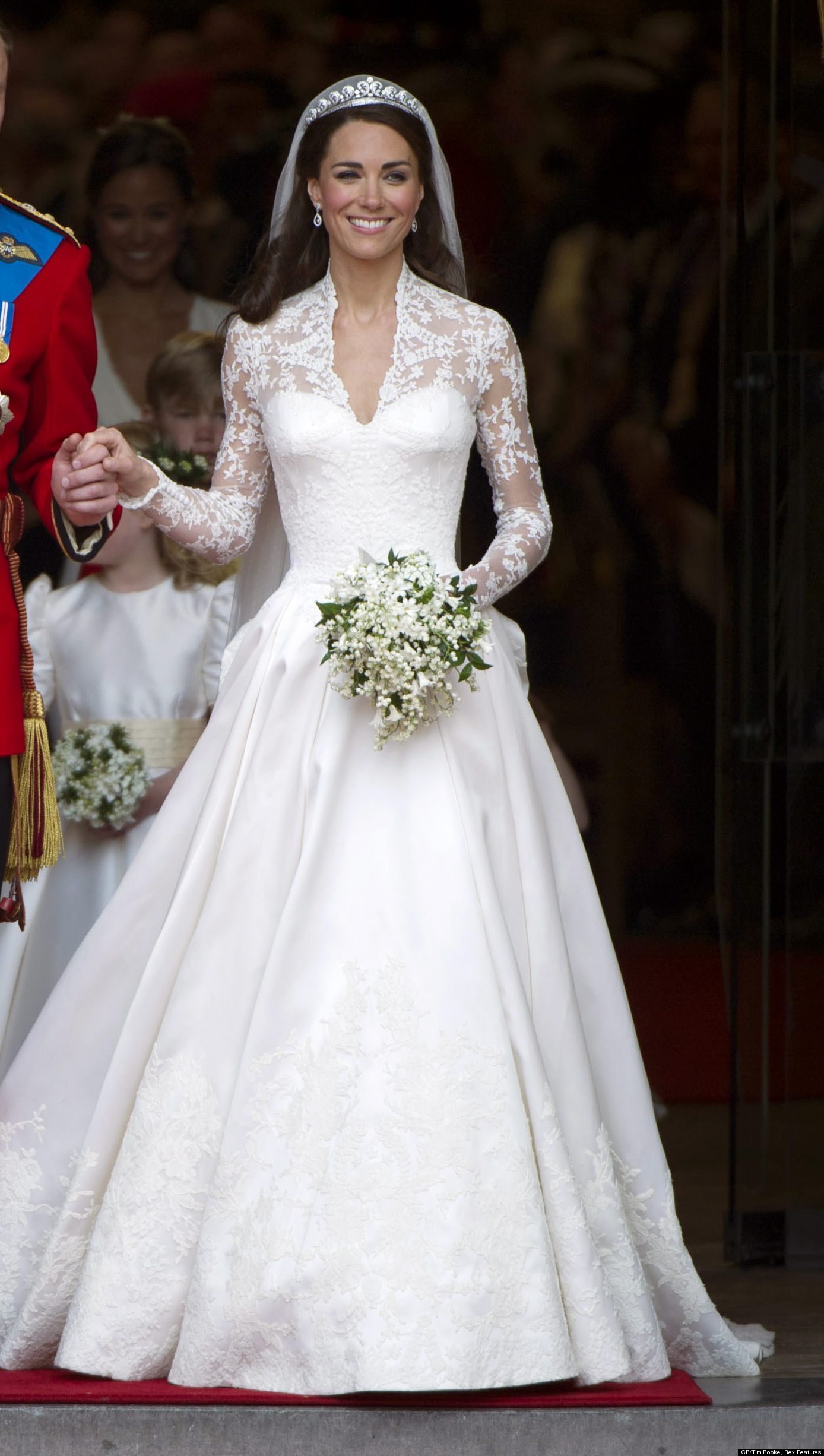 Now, one year on, the dress has become one of the most knocked-off gowns in history: Lord & Taylor created a line of "Kate-inspired" frocks; dogs can wear the Royal wedding gown as a costume; one woman even designed a Burton-esque creation out of balloons.
So, as we approach Prince William and Kate Middleton's first anniversary, we have to ask: is the dress still swoon- and lust-worthy?
If you look at current bridal trends (in the below slideshow) it would seem we're moving away from Kate's completely covered up look. Off-the shoulder (and one-shoulder) designs are all the rage, as are shorter skirts with feathers. Peplum is a big feature on full-length frocks and oversized bows are de rigueur. There is still plenty of ruffles and ornate beading (lace looks will never totally disappear), but it's cropping up on bridal runways in more subtle ways -- like adding cap-sleeve coverage to a slinkier dress.
Yes, Kate's dress was gorgeous, but is the trend of copying the "Royal Wedding" coming to end? Are we moving onto dresses that are less regal and more flirty and fun? Will Kate's dress stand the test of fashion's time? Let us know what you think.
Bridal Market Spring 2013: Top Trends
Who says strapless is queen? Designers put a delicate cap on bare shoulders, as in this fitted lace dress by Amsale.

Another cap-sleeve dress by Amsale.

When it comes to classic, the lace has it. From hand-beaded to fluted-skirt to cap-sleeved bodice, designers showed that lace still has a hold on runways and wedding aisles. This Amsale gown perfectly encapsulates the trend.

A Romona Keveza gown.

The one-shoulder dress showed strongly on the runways, whether sexy and draped, as in this gown from Romona Keveza.

One shoulder, wrapped in a bow by Amsale.

A one shoulder gown by Angel Sanchez.

Dresses airy as spun sugar floated down the runways, like these whipped confections by Amsale.

Another Amsale gown.

A frothy Angel Sanchez gown.

Brides have been bucking traditional floor-length gowns for years in favor of shorter, flirtier hems. Amsale showed delightful designs in lace and silk, and this one with frilly, floral embroidery.

The silk Amsale gown.

The lace Amsale gown.

Designers gave brides who like some zhuzh (are we still saying that?) bold options. Oversized bows, peplum skirts, embellished ribbon and floral details stood out on the runways. This bold gown is by Amsale.

Another Amsale gown.

An embroidered Amsale gown.

A frilly Angel Sanchez gown.

Angel Sanchez showed dresses fit for an ice princess (we mean that in a good way). Geometric acetate detailing paired with tulle to create the shimmer of ice crystals -- perfect for winter brides.

Last year, Vera Wang showed nary a white dress, opting for nudes, ivories and midnight blacks. This year she went bolder, sending brides down the runway in shades of scarlet, crimson, vermillion and dahlia. Wang explained the symbolism of red: "Boldly romantic, charming, protective, grand, seductive, sexy ... A celebration of love."

An embellished dress from Vera Wang.

A one shoulder dress from Vera Wang.

A red Romona Keveza gown.