Green Movies For Kids: Family Films To Watch For Earth Day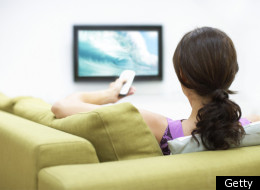 Can you save the environment from the comfort of your couch? Probably not, but watching green movies might inspire you and your family to be a bit more eco-friendly on Earth Day.
As much of the world focuses on increasing awareness about urgent environmental issues, watching Netflix's top 10 green movies can help show you and your kids how to take action. Curious about water wars? Blue Gold: World Water Wars is for you. Want to reduce your oil dependency? Check out Who Killed the Electric Car? Hungry for local food? Watch What's On Your Plate.
But before you plant yourselves in front of the tube, consider the eco-friendliest way to watch. Studies have debated whether streaming a movie, having one shipped, or renting it from a video store hurts the environment the least. With so many different factors, including transportation to the video store, DVD packaging, and the amount of electricity it costs to run the streaming servers, the answer is complicated.
But like so much that relates to eco-consciousness, it's about trying as best you can to reduce and reuse energy and things, so take the tact that works for you. Whichever way you choose, take a lesson from each of these environmental movies to go green for Earth Day.
What happens when money is more important than water? That's one of the questions Blue Gold poses while explaining how water is commoditized around the world, from South Africa to Michigan. The film warns viewers the Earth will become "desertified" unless they can become more aware of where water comes from, where it's going, and who's behind the world water wars. Lesson Learned: Maude Barlow, who co-authored the book the film was based on, encourages water conservation, grassroots action, and demands that water remain in public hands.

In Wenatchee Valley, WA, the 'Apple Capital of the World,' subdivisions and big box stores have replaced apple orchards, and some farmers feel powerless against corporate interests. Enter the New American Farmers, a movement dedicated to sustainable agriculture. Lesson Learned: Carefully consider where and how the food you eat is produced, and how to support local farmers.

The collection of TED Talks features chefs, farmers, scientists, including Jamie Oliver, Dan Barber, Nathan Myhrvold and many more discussing all aspects of food politics from sustainability to obesity. Lesson Learned: There are too many to count. Take a bite and see how you like it.

Fast, quiet, affordable and.... gone? Who Killed The Electric Car? explores why electric cars have disappeared despite their popularity, pointing the finger at auto industries, big oil, consumers, government and more. Lesson Learned: Play the role of a detective in this murder mystery and investigate cleaner forms of energy.

The film demonstrates a pervasive addiction to oil, which could potentially lead to job loss, conflict, violence, and disaster. Lesson Learned: Admitting this addiction to oil is the first step to recovery. The second step is to investigate alternative technologies that stem that addiction.

What's radically simple, according to engineer and author Jim Merkel? Taking water from a forest stream or building an outhouse by hand, all to reduce his ecological footprint. Lesson Learned: Consider how your every action could affect the other billions of people on Earth.

The evolution of chemicals has produced the homo toxicus species, who are exposed to over thousands of chemicals, up to 247 of which have been found in newborns. Lesson Learned: Consider how everyday chemicals can impact your health and change harmful lifestyle habits.

BBC's The Blue Planet series reveals the ocean's environment, which many marine scientists still consider mysterious. Lesson Learned: There's more to the Earth than meets the eye, as two-thirds of it is covered by water.

Much like Blue Gold, Thirst explores the tension between those who consider water a commodity and those who believe it belongs to everyone. Lesson Learned: Water is scarce -- don't take it for granted, and think about joining an advocacy group dedicated to its protection.

What's on your plate? Do you know where it came from, or the name of the farmer who grew it? Many kids (not to mention adults) don't have a clue, but you can watch What's On Your Plate to find out. Lesson Learned: Teach kids where the food on their plates comes from. To improve what they eat, look closely at the ingredients in pre-packaged foods, and shop at farmers markets year-round.