Unexpected Ways To Use And Misuse Your Dishwasher (PHOTOS)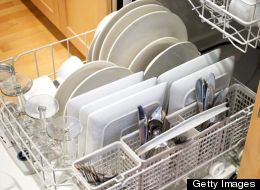 Let's face it -- the majority of us hate washing the dishes. After a long day at work, we head home to cook dinner for ourselves and family, so the last thing we want to worry about is the stack of plates crusting over in our sink.
And while the dishwasher always comes to the rescue in such situations, have you ever wondered whether the dirty pots and pans you're stuffing in there are actually allowed to be, well, in there? And what of those unexpected things that are lying around your home that can actually be thrown in (rumour has it, you can even cook food in your dishwasher)?
Want to learn more? Here's a handy (almost) A to Z guide of the unexpected things you can and can't do with your plate-cleaning contraption.
Don't forget to tweet us at @HuffPostCaStyle about what you do with your dishwasher.
What You Can And Can't Put Into Your Dishwasher
Don't waste your time cleaning small toys or action figures by hand -- throw them into a mesh lingerie bag and leave them on the top rack of your dishwasher.

We all try to be environmentally-conscious, but if you want to make sure you have your reusable water bottle or thermos ready tomorrow morning, make sure to leave it out of the dishwasher. Aluminium is vulnerable to nicks and scratches.

They get bent out of shape in washing machines, so keep them looking fresh by washing them on the top rack of a dishwasher.

The last thing you want to worry about after throwing that fancy dinner party is doing the dishes -- so use the dishwasher instead. Just make sure your crystal glasses don't end up in there along with everything else.

Clean Sparky's chew toys and bowl by tossing them onto the top rack.

We all know these get sticky and dirty pretty quickly, so toss them into the dishwasher for a quick rinse.

No need to buy a new pair of flip-flops every summer. Just throw yours onto the top rack of your dishwasher and they'll come out looking brand new!

They clean up nicely in the dishwasher -- just make sure not to mix them with your silverware (no one wants to find fertilizer on their spoon).

Toss in your plastic combs or brushes for a quick spin. Just make sure to remove any hair or else you'll end up with a clogged drain.

Not only will a dishwasher clean them, giving these guys a good rinse will make the ice cubes pop out easier (a cleaning will reduce ice and grime build-up).

We wouldn't recommend you put in anything small or fancy, but throw in some bulkier pieces of costume jewellery to give your bling extra shine.

Knives in the dishwasher are a triple threat -- hazardous to the knife, dishwasher and the unlucky person unloading the contraption. Not only can they leave you with a nasty cut, but the detergent will cause nicks and scratches on the blade, leaving it dull.

These get germ-infested pretty quickly, but the top rack of the dishwasher should kill whatever's left over from your lunch.

Mouth guards can get pretty gross, so throw them into the silverware caddy to get them sparkling like new.

Be the envy of all your co-workers and have the cleanest desk by throwing your office supplies onto the top rack for a quick rinse.

Don't waste time scrubbing your spuds. Throw them onto the top rack of your dishwasher and run them through a rinse-only cycle. Just remember, don't add any detergent -- no one likes soap-flavoured mashed potatoes!

Simply remove the liners and lie these bad boys horizontally in your dishwasher!

Having salmon for dinner? Why not cook it in the dishwasher?

Give your toothbrush a deep clean by placing it on the top rack of a dishwasher and running it with detergent.

They're sensitive to heat and the abrasive detergent can also cause them to chip. Hand wash them gently and dry with a soft, lint-free towel.

Wood and dishwashers don't mix. The temperatures, humidity and water will cause your wooden spoons, cutting boards and chopsticks to crack and split.

Jennifer Sperling shows you how to use your dishwasher efficiently.