10 Tips To Find The Perfect Neckline For Your Body (PHOTOS)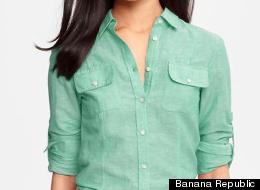 Summer means flowy dresses, patio hangouts and relaxing on sunny beaches. And for us sartorially savvy folk, we want to make sure we look good whether we're taking a dip into our backyard pool or having a few drinks on the patio.
So, when you're looking for your summer staple dress or the perfect bathing suit, pay attention to what kind of neckline will be most flattering for your body (it's one of the simplest ways to highlight your assets).
We spoke with Angella Hlymbicky, Wardrobe Consultant and Stylist from Vancouver/Calgary, who told us necklines are all over the place this season and, in the end, what works for you all comes down to how you want to feel and what your personal style is.

She adds, when it comes to necklines, the goal is to try to balance your body type and play up and accentuate your favourite features. For women with a curvier and bustier figure, Hlymbicky recommends boatnecks, heart-shaped cuts and v-necks. For more athletic or boyish figures, she says the best way to add curves is to wear scoop necks, the halter and the deep v.
As with all rules, though, these are meant to be broken. So, if you've got a boyish figure and want to pull off a scoop cutline, go for it! If you're feeling confident, you'll be able to rock any look.
For more tips on which neckline is best for you, check out the below slideshow.
Find The Perfect Neckline For Your Body
If you have a curvier body type, this style should fit perfectly at the neckline. Try this cut on a little black dress or swimsuit. Rebecca Taylor strapless dress available at Dealuxe, $380.

Halters cut broad shoulder lines up and add curves. They look best paired with business suits and on silky, handkerchief-type tops Alice + Olivia halter bodsuit available at Shopbop.com, $202.78.

"V-necks are universally flattering, whether you have a large or small chest," says Hlymbicky. She recommends pairing one with a feature necklace in a contrasting shape, such as a round pendant or strands of beads. Just make sure it sits on or above the v-neck. Mercer v-neck pocket tee available at The Gap, $22.95.

Large scoop necks create curves, so they're best for smaller chests or women with athletic body types. Bustier ladies can do a smaller scoop. To bring emphasis down, they are best paired with a feature necklace that mimics the scoop. Ella Moss cut out blouse available at Dealuxe, $161.50.

These look best on hourglass figures. Hlymbicky suggests they look classic and modern on a striped shirt or the on-trend striped dress. Marine boatneck tee available at Joe Fresh, $24.

"Tube tops can be worn by all types, granted the proper foundation garments are worn," Hlymbicky says. It's fine to go bra-less if you can pull the look off with confidence. Otherwise, go for seamless shaping garments or a strapless bra. Stay clear of clear bra straps and uncomfortable sticky bra pads. Eyelet tube dress available at Old Navy, $25.

Once again, make sure you're wearing proper fitting foundation garments if you're going for this look. Hlymbicky reminds us this look shouldn't be worn to the office, unless covered with a blazer. Alice + Olivia one shoulder bodysuit available at Shopbop.com, $202.27.

This sexy neckline can be created with an undone, button down shirt and is best suited for boyish figures. Alice +Olivia ballerina bodysuit available at Shopbop, $202.27.

This look is easier for rectangle/square-shouldered ladies to pull off. Turtleneck available at Joe Fresh, $16.

Collared shirts work for everyone and can be found -- designed to your liking -- pretty easily. Chambray button-down shirt available at Banana Republic, $74.

Accessorizing your outfit with the right necklace is easy to do if you follow this simple advice.