Sexiest MPs In Ottawa: Hill Times Lists Canada's Hottest Politicians (PHOTOS)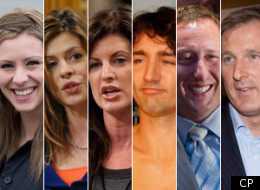 Politicians spend plenty of time in front of the camera, so it's no surprise that some of them are easy on the eyes.
Now, one of Ottawa's top publications has listed the MPs who are easiest of all to look at. The Hill Times worked with Angus Reid Public Opinion to compile their annual Politically Savvy Survey.
The influential outlet asked 122 movers and shakers in the capital -- 58 of them working in politics -- to answer questions on everything from who is the hippest MP to which politico has the worst sense of humour.
The results for sexiest MPs mirror a survey done last year by HuffPost Canada. After Justin Trudeau shed his clothes for charity, we asked readers which politicians they would most like to see do a striptease. Trudeau and NDP MP Ruth Ellen Brosseau won the vote.
Peter MacKay has been voted sexiest male MP in the Hill Times survey 10 times. Did the Defence Minister's marriage this year to Nazanin Afshin-Jam hurt his vote? Check out the slideshow below of the sexiest MPs in Ottawa to find out.
See Hill Times' full list here.