Cheapest MPs: Hill Times Lists Best And Most Frugal Bosses In Ottawa (PHOTOS)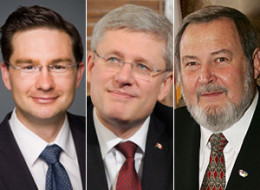 While MPs were in the news last week for their spending sprees on hotels and fighter jets, not every politician in Ottawa has a free hand with the parliamentary chequebook.
One of Ottawa's top publications has listed the biggest scrooges to work for in Ottawa as well as the best bosses. The Hill Times worked with Angus Reid Public Opinion to compile their annual Politically Savvy Survey.
The influential outlet asked 122 movers and shakers in the capital -- 58 of them working in politics -- to answer questions on everything from who is the hippest MP to which politico has the worst sense of humour.
Stephen Harper makes the list despite having both the largest salary and the biggest pension in the House. Harper is famous for actually turning down a bigger retirement package.
As a Reform MP, Harper made a political statement by not paying into the MP pension program. A change in the law later forced Harper to begin making contributions, but he has since refused to make retroactive payments for his Reform years, effectively reducing the size of his pension by roughly $600,000 (based on a 2019 retirement date.)
Check out where Harper lands on the list of the best and cheapest MP bosses below.
See Hill Times' full list here.