Bikini Shopping: Separates Under $40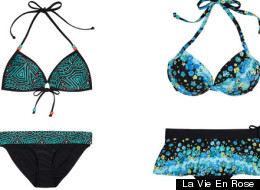 By: Vanessa Taylor, TheKit.ca
By now you've heard us telling you to mix your metals (yes, gold and silver jewellery look good together!) and mix your prints (yes, stripes and paisley are totally cute!), so now it's time to mix up your bikini.
Related: Find A Bathing Suit That Fits!
Buying your bikini top and bottom separately lets you customize the fit of your swimwear—many brands, like La Vie En Rose offer a wide range of silhouettes within each print. Love an itsy-bitsy brief but want tankini-coverage up top? This is easy when everything is sold individually.
Another bonus? It lets you create interesting combinations—try florals with polka dots or neon solids with animal print.
Related: Get DKNY's Casual Wavy Hairstyle With Tips From Wella
La Vie En Rose swimwear, $30-$40, lavieenrose.com
More from TheKit.ca:

Beer-infused shampoo?
Get the Runway Look at Home: DKNY's Casual-Chic Hairstyle
Natalie Portman's perfect makeup look
Also on The Huffington Post, how to wear florals this summer
How To Wear Florals For Summer
For the sartorial risk takers: Christopher Kane offers us inspiration to rock a floral skirt suit. A model walks down the catwalk during the Christopher Kane Runway show.

Nina Ricci shows us that layering florals on top of each other is not only visually intriguing, but also the perfect summer solution to looking effortless and cute. A model walks the runway during the Nina Ricci Ready.

Marc Jacobs can literally do no wrong and as the creative director of Louis Vuitton, that statement holds strong. This eyelet dress is a subtle way of embracing florals without being overwhelmed by a literal print of flowers. A model walks the runway during the Louis Vuitton Ready to Wear Spring/Summer 2012.

H&M, $29.95. Available at hm.com

Floral zip bralet, $36. Available at topshop.com

Molly floral scarf, $74. Available at bananarepublic.ca

Floral print trousers, $79.90. Available at zara.com

Women's Printed-Pocket Skirt, $32.94. Available at oldnavy.ca

High-Low Floral Dress, $27.80. Available at forever21.com

Floral Bib Necklace, $10.80. Available at forever21.com

Floral Ballerina, $35.90. Available at zara.com

Gold floral cocktail ring, $50. Available at bananarepublic.com

Trend Tips by Sephora by O.P.I., $14. Available at sephora.com

Daisy by Marc by Marc Jacobs, $75. Available at sephora.com

Jenna Floral Skirt, $159.50. Available at clubmonaco.ca

Hydrangea silk robe, $128. Available at anthropologie.com

Floral iPhone case, $24. Available at anthropologie.com

Rinks by Aldo, $80. Available at aldoshoes.com

Floral print shopper, $32. Available at topshop.com

Floral tiara headband, $58. Available at bcbg.com

Eyelet shell, $39. Available at joefresh.com
Want more? Be sure to check out HuffPost Canada Style on Twitter, Facebook and Pinterest.