Hats In The Summer: Time For Them To Exit The Fashion Scene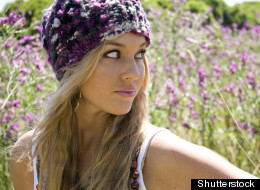 By definition, trends are fleeting. They're ephemeral. And each day we see our fair share of looks we'd like to remove from our sartorial lexicon. So join us, each week, as we analyze a trend that's had its 15 minutes of fame. These looks are well into their Minute 16, folks. It's time to usher them toward stage left.
The Trend: Juxtaposing a winter toque with a pair of jorts (jean cut-offs) is sending people everywhere a mixed message: are you hot or are you cold? Toques are great for the winter (and are even recommended), but when the mercury in the thermometer rises, it's time to raise the hats off your head and toss them in a sturdy storage box.
Chief Offenders: Remember Justin Bobby of 'The Hills' fame? This was his favourite look. And he always seemed a little out of place walking L.A. streets covering his mop in a heatwave. Do you really want to take a style lesson from someone so confused? Probably not.
What's Wrong With It: We understand a hat in the summer is part of a certain "look," but it's essential you let your head breathe -- we lose 80 per cent of our body heat through our heads (wear a toque and you're liable to get heat stroke -- or melt into a puddle). Not only that, this look is sartorially strange.
May We Suggest: A sun hat or maybe even a retro snapback is a better look for summer. Either option will keep messy hair out of the public eye, but will also show you have some sort of idea of what the weather is like.
What do you think? Are we just plain wrong about this trend? Let us know in the comments below or on Twitter @HuffPostCaStyle.
Here our some of our favourite summer trends.
A To Z Fashion Must-Haves For Summer
Apres Practice Anorak, Available at Lululemon, $158.

BROWNS ID & JC, Available at Brown Shoes, $198.

Lisa Stewart "Modern Myth" 14k Gold-Plated Pink Cuff-Bracelet, Available at Endless.com, $119.

Tigerlily Kite Tail Lace And Chain Geometric Earrings by This Ilk, Available on Etsy.com, $32.

Covet Open Shoulder Tee, Available at Covet, $56.

KORS Michael Kors Winnie Flip-Flops, Available at Michael Kors, $44.

Tulip Dress, Available at Joe Fresh, $69.

High-Low Skirt With Belt, Available at Forever 21, $20.

Circling Initial & Stone Ring, Available at Urban Outfitters, $10.

Tri-Blend Pocket Jumpsuit, Available at American Apparel, $54.

Flutter Sky Kimono Jacket, Available at French Connection, $168.

Neon Yellow Dress, Available at LuLu.com, $46.

Glitter Zip Clutch, Available at Ann Taylor, $48.

Jessie Dress by Tahari, Available at The Bay, $107.

Anchor Gigi Hair Tie, Available at TwistBand, $10.

Corsetta Belt, Available at Anthropologie, $48.

Clear Crystal Quartz Necklace 14K Gold Filled chain Jewelry Icicle Point Arrow Spike, Available at Etsy.com, $20.

Timex 80, Available at ASOS.com, $93.

Stacey Brass Snake Cuff, Available at Chloe, $595.

Denim Shorts, Available at H&M, $30.

Lily Birdcage Umbrella, Available at Fulton, $29.

SPAZIANO High Heels, Available at ALDO, $40.

Rosie Woven Bucket Bag, Available at Marc Jacobs, $430.

It was recently reported retail giant Bloomingdale's could be making its way to Canada -- along with Target, J.Crew and Marshalls.

50's Cross Front Sweetheart Bathing Suit, Available at ASOS, $37.

Medium Fabric and Leather Shoulder Bag, Available at Missoni, $690.
Want more? Be sure to check out HuffPost Canada Style on Twitter, Facebook and Pinterest.