Anonymous Video On Quebec Student Protests Demands An End To Police Violence (VIDEO)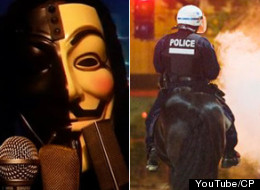 A video released on Friday and attributed to the hacker group Anonymous demands an end to police violence against student protesters in Quebec.
Set to dramatic music from the film Inception, a masked figure says in French that the group is "particularly shocked and horrified by the extreme violence used in repressing peaceful demonstrations organized by students from Quebec."
"Anonymous requires the government of Quebec to respect the fundamental rights of citizens," the figure says. "Freedom of expression is an inalienable right on which no government can walk, without paying a heavy price for this misdeed. Anonymous requires the government of Quebec to put an immediate end to repression, and to stop the police violence against peaceful demonstrators. "
Footage of violence during the protests, including one long clip taken by a crew from Concordia University's CUTV, make up the rest of the video.
Last week, Anonymous claimed responsibility for hacking into several Quebec government sites in retaliation for the actions of Premier Jean Charest's Liberal government.
A video on the operation has racked up nearly 200,000 views on YouTube.