Tommy Smythe's Design Tips: Sarah Richardson's Decor Partner-In-Crime Shares His Top Five (PHOTOS)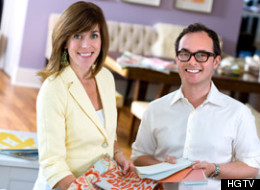 It's always better when designing together -- that's what Sarah Richardson and her right-hand-design-man Tommy Smythe believe.
In the latest season of their show "Sarah 101," the beloved Canadian pair will be offering viewers the building blocks (aka: tips and tricks) they need to redecorate or reinvent their own spaces.
Lucky for us (and you!), we have a line to these two trendsetting designers and they're sharing a few of the things they learned while filming this season (yes, pros still learn a thing or two after years in the game).
This week we chat with Smythe and nab his top five "learned" interior decorating tips.
Check them out in our slideshow below:
Top Design Tips From Tommy Smythe
"Starting with a great fabric scheme is very "signature Sarah." We've learned the best results come from a good foundation and with the exception of kitchens and baths, most rooms feature fabric quite prominently so it's important to get it right. Plus, believe us, it's much easier to match a paint colour to a fabric swatch than to do the opposite!"

"The star can't shine without supporting players so we always go for an overall high-low look. One or two prominently featured investment pieces will hold most rooms and the rest can be a range of budget-conscious -- but still attractive! -- elements. Even the wealthiest clients love a bargain and who are we to refuse!?"

"Budgets can be a buzz kill to create and a major pain to manage, but guess what's worse? Getting to the end and not having enough money for the finishing touches that make your project come alive. Sharpen those pencils and work out a realistic vision of what's affordable and you'll have a happy ending every time."

"We've always been big fans of the transformative power of paint! There's no better or faster way to create dramatic change on a tight budget. Of course we're partial to our favourites and that's the idea behind the Sarah Richardson Designer palette -- all our tested and trusted best-bets in one deck! You'll see a lot of paint put to work on Sarah 101 this season," says Smythe.

"Find a sidekick! Everyone has a trusted friend or relative whose taste and style they admire, who would likely be thrilled to be asked along for the ride. Decorating is fun to do on your own, but you'll see it's a lot more fun to do with your best friend."
"Sarah 101" launches May 29 with back-to-back episodes starting at 8 p.m. ET.
Want more? Be sure to check out HuffPost Canada Style on Twitter, Facebook and Pinterest.