Reinvent Your Wardrobe With Stripes This Summer (PHOTOS)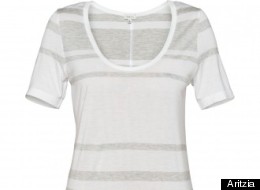 We're taking a sartorial cue from sailboats this summer and donning stripes on the street. Only, this summer, we're adding some oomph to our sailor-inspired sartorial choices by wearing them in new and unexpected ways.
Are we donning a striped shirt under a summer suit? You bet! How about pairing two sets of stripes together to make one "stylish" outfit? Obviously! We're even replacing solid tees with those that are horizontally inspired.
Check out some of the ways you can stripe up your wardrobe this summer.
Meet the new summer basic. Well, we know it's not new per se, but this summer we are pairing it with everything we own. We're replacing the basic tees in our closet and throwing on stripes. It's everyday effortless fashion. Ace t-shirt in deco stripe, $40. Available at Aritzia

It's just stripes on stripes on stripes -- when you match your perfect striped tee with a pair of loose fitting striped shorts. It's a subtle take on pattern mashing -- just make sure the stripes aren't going in the same direction! Striped line blend short with belt, $17.80. Available at Forever 21

When the weather starts heating up, it's time to remove your sleeves. So instead of the classic denim jacket, try a denim vest paired with striped shorts. Moto sleeveless denim jacket, $76. Available at Top Shop

Wearing stripes with coloured pants may be slightly intimidating at first, but we promise the second you step out of the house you'll adjust and love it. It completely reinvents the stripe for the summer because coloured pants are so popular this year. 1969 sexy boyfriend jeans, $79.95. Available at The Gap

If you're bold enough to wear a summer suit (bonus points if it's all white) then try substituting a plain shirt under the blazer with a striped shirt. It will look unexpected and will make your ensemble appear edgier. Shorts With Contrast Panel, $44.11. Available at asos.com Jacket With Contrast Trim, $97. Available at asos.com

We're still not over the maxi, but colourblocking isn't the only way to wear a floor-length skirt. We say pair this summer staple with a striped tee. Chiffon double-layered full length skirt, $66. Available at American Apparel

The simplest way to wear stripes this summer is to don a scarf. They're excellent accessories for a cool summer night and if you wear them with a striped shirt, you'll look even better. Striped scarf, $14. Available at Joe Fresh
Want more? Be sure to check out HuffPost Canada Style on Twitter, Facebook and Pinterest.