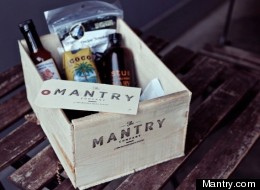 On June 17, we'll be celebrating the men in our lives. Those dudes -- dads, uncles, grandparents, brothers -- who have helped shape who we are.
And because the task they've been given (we're a lot of sugar, but also some spice) is so large, we wanted to find some extra-impressive items to gift them.
So naturally we came up with 14 items we secretly covet ourselves (if we like 'em, the men will too... right!?).
From stocking his pantry with unexpected food products to sending him a "gentle reminder" he's always late with a watch, these are the top gifts we're giving this Father's Day.
Father's Day 2012 Gift Guide
Mantry: curated products to update a man's pantry, $75. Available at Mantry.com

PC Muskoka chair with Ottoman, $99. Available at Real Canadian Superstore

Billykirk Schoolboy Satchel, $424. Available at J.Crew

Le Clos Jordanne Talon Ridge Pinot Noir, $40. Available at the LCBO and online Etro tie, $150. Available at Harry Rosen

Stainless steel grill tools with case, $144.95. Available at Williams-Sonoma

Aviators, $14. Available at Joe Fresh

Sperry's authentic 2 eye, $109.99. Available at Sporting Life

Kindle Touch Wi-Fi, $139. Available at Amazon

Polo shirts by Britches, $29.99 - $34.99. Available at Tip Top Tailors

Engine-turned money clip in sterling silver (engraving not included), $185. Available at Tiffany & Co

Panasonic LUMIX DMC-TS4, $399.99. Go to panasonic.ca to find a retailer near you.

Dive Master 500 gunmetal, $750. Available at Victorinox Swiss Army

Denver Hayes vintage double-layered shirts, $39.99. Available at Mark's

Three cup classic series glass coffeemaker, $34.90. Available at chemexcoffeemaker.com

Forget the tie. Think bespoke booze for Father's Day, specifically a beverage tailor-made to suit the hobbies father knows best. Of course, to do that you first have to decide who, exactly, is your daddy. The type of guy who likes to putt? Or someone who's happiest when merely puttering? Is he sporty? Handy? Or maybe he's that most challenging of giftees, the man who has everything. Whatever the type, we've got a few suggestions to help you pick out that perfect bottle. With files from The Canadian Press

Lots of choices in this category, including a number of wines by NFL greats such as legendary coach Dick Vermeil of the Philadelphia Eagles, St. Louis Rams and Kansas City Chiefs as well as former Oakland Raiders and Green Bay Packers player Charles Woodson. Is dad more of a brew guy? Radeberger Pilsner is a classic German Pilsner made with barley malt, hops and water from the brewery's own well.

Port isn't what comes to first mind when selecting a summer wine, but a chilled tawny port can be delicious as a barbecue aperitif or paired with dishes such as grilled scallops. Two to try are Taylor-Fladgate 20-year-old Tawny and Graham's 20-year-old Tawny. Does your dad's typical backyard bash involve inviting the whole block over? Consider Ravenswood Vintners Blend Old Vine Zinfandel, a hearty, meat-friendly wine that's priced reasonably enough at $10 to $12 a bottle to allow you to grab a case.

For 007 fans, a No. 1 choice might be The Macallan, a single-malt scotch featured as James Bond's favourite drink in the recent box-office hit "Skyfall." Interesting fact, Macallan did not pay for product placement of the scotch, which Bond and M are shown drinking and which is also used in an edgy scene featuring an unfortunate game of William Tell-style marksmanship. Another option is the Director's Cut wines from director-turned-vintner Francis Ford Coppola of "The Godfather" and "Apocalypse Now" fame. The limited production wines sourced from Sonoma County come with a wraparound label modeled after a Zoetrope strip, one of the earliest moving picture devices.

Is your dad the kind of guy who disappears into his workshop for hours in search of a better mousetrap? He might like Lucid Absinthe. Popular in the 19th and early-20th centuries, especially in France, the anise-flavoured spirit was banned due to concerns that it contained dangerously high levels of the chemical compound thujone, found in the key absinthe botanical ingredient Artemisia Absinthium. But environmental chemist T.A. Breaux wasn't convinced the experts were right. A Louisiana native, Breaux had some pre-ban bottles of absinthe. He ran it through the mass spectrometer and, hey presto, found only trace amounts of thujone. In 2007, Lucid, produced in France, was approved for importation to the United States.

Scotland is the home of golf and of Scotch whisky (no telling if those two are related), and a good gift for the dad who golfs might be Johnnie Walker Double Black, a smoky, complex whisky. Or, try a single-malt whisky like Oban 14-year-old, which balances sweet and smoky with a slightly briny finish. If dad likes wine, a number of golfers have gotten into the wine business, including South African Ernie Els, who produces wines from his country's Stellenbosch region and Arnold Palmer who collaborates with Luna Vineyards in the Napa Valley.

Turn4 wines are named after the most exciting turn in the track. Try the California cabernet sauvignon, fruity and elegant. The Andretti Winery in the Napa Valley founded by race car legend Mario Andretti is another option.

There are a lot of people to look up to in the world of wine, but maybe none so literally as 7-foot-6 former NBA star Yao Ming. Ming's Yao Family Wines made its debut in 2011 with two choices, Yao Ming 2009 Napa Valley Cabernet Sauvignon and Yao Ming 2009 Family Reserve Cabernet Sauvignon. They're both priced in the special occasions category, the first coming with a suggested retail price of $150 and the second tagged at $625 and are available at a few fine wine shops by signing up on the winery mailing list. In the spirits category, cognac offers elegance and finesse, just the ticket for a dad with sophisticated tastes. Camus cognac fits the Father's Day theme well since it's now being run by fifth-generation member Cyril Camus. The line starts with the reasonably priced VSOP Elegance at $24; try it over ice for a refreshing change. But if you recently won the lottery or are celebrating a VERY special Father's Day, how about the Cuvee 5.150 which marks the family-owned company's 50th anniversary and rings up at $13,500 a bottle. Or maybe you need a bit more time to save up for that one.

Mantry: curated products to update a man's pantry, $75. Available at Mantry.com

The TaskOne iPhone case is ideal for dads that like to tool around and fix things on the go. The case is made of aircraft polycarbonate and the Swiss Army-like tools (screwdriver, bottle opener, mini-saw, wrench, etc.) are stainless steel. Available for iPhone 4, 4S, and 5 in three colours. The TaskOne iPhone case, $90, available at Task Lab

It's easier for Dad to strap this on instead of lugging around a clunky camera bag. The compact cases come in various artistic designs, five different sizes, are padded, and are also waterproof. Camera Coats, $30-$55, available at Camera Coats

This is for the dad that spends as much time in the kitchen as he does in the tool shed. The Artisan Series model has a 325-watt motor, 5 quart (4.73 L) stainless steel bowl, and comes in 26 colours. If your dad is into sausage parties, you can even include a Sausage Stuffer ($20) attachment. Kitchen Aid Artisan Stand Mixer, $499, available at suppliers of Kitchen Aid

It's tough for Dad to grill the best burgers while also entertaining his guests. The Talking BBQ Thermometer will literally tell him when his meat is ready by wirelessly transmitting to a display unit that can be moved up to 100 feet away. The Talking BBQ Thermometer, $59.99, available at Sharper Image

Woodchuck Hard Cider features a clean, apple finish that is also naturally gluten-free. So dad has no excuse for having a beer belly. Woodchuck Hard Cider, $13.95/six pack, available at Woodchuck

If you can't get your dad tickets to an NHL playoff game then you can at least make his living room sound like a hockey arena with the Sonos Playbar. The wireless HIFI system produces full Dolby 5.1 Surround Sound, so dad can hear every slap shot, every crunching body check, and eventually, every sobbing Leafs fan. Sonos Playbar, $749, available at Sonos

Your dad breaks his back trying to give you a good life. So the least you could do is help him shave it. The Mangroomer Professional Do-It-Yourself Electric Back Hair Shaver features a handle you can extend so Dad can shave in hard to reach places. Accessories included are a new protection cap, a cleaning brush, an A/C recharging adaptor, and an instruction booklet (just in case he asks you for a hand). Mangroomer Professional Do-It-Yourself Electric Back Hair Shaver, $49.95, available at Mangroomer

Even dads need to wax every now and then. The Cordless Car Waxer's rechargeable 18-V cordless orbital waxer and built-in liquid wax reservoir makes sure he doesn't get tied up while buffing and polishing his pride and joy. Cordless Car Waxer, $79.99, available at Amazon

There are many great things about being a dad – carrying a diaper bag isn't one of them. Fortunately, there's the Diaper Vest - a cool looking jacket that secretly stashes baby essentials. Older dads can even store Depends Adult Diapers for themselves. Diaper Vest, $79, available at DadGear

Give your dad some Spanx to help him cheat on his diet a bit. The Spanx for Men line of undershirts (Manx) is designed to aesthetically improve dad's physique with cooling features and compression zones that transform the torso and chest. The Manx shirts even come in "Medium" and "Hard Core" compression power levels. Manx, $79 for a Zoned Performance Crew Neck Undershirt, available at Spanx Price: for a Zoned Performance Crew Neck Undershirt

Let your dad relive his dreams of being a famous musician with the Lester Classic Unfinished Electric Guitar Builder Kit. Unfortunately for dad, groupies are not included with the kit. Lester Classic Unfinished Electric Guitar Builder Kit., approximately $210-$260, available at Overstock.com

Papa's Got a Brand New Man-Bag and it looks like a classy bowling bag – so he doesn't have to feel self-conscious about carrying a male purse to work. Zara Basic Bowling Bag, $95.90, available at Zara

If you are making your foodie dad a special meal, spice up his day with some PC Black Label Hatcho Black Miso Marinade. The sauce combines black miso, sake, and toasted sesame, which is perfect for beef, pork, chicken and seafood dishes. President's Choice Black Label Hatcho Black Miso Marinade, $5.99, available at Loblaws

Help your dad feel like an international man of mystery by equipping him with a gadget watch that would make James Bond jealous. The timepiece allows you to connect to your iPhone 4s or to the new iPhone 5 using Bluetooth 4.0. The watch will alert you with a discrete vibration whenever you have a message on your iPhone, with the second hand automatically sweeping to point at various indicators on the dial ring so you can see whether you have an incoming call, email or calendar alert. Citizen Eco-Drive "Proximity Bluetooth" watch, $412.50 (sale price), available at Watch It

Usually, the recipient of this honour receives a standard "World's Greatest Dad" coffee mug. But your dad is so special that he deserves a unique coffee mug that stirs itself. With a press of a button, the mug instantly blends in cream and sugar without a spoon – or in the case of most dads, his finger. Self-Stirring Mug, $18.99, available at Think Geek

The Toronto Maple Leafs were toasted from the playoffs in grizzly fashion — and now you can make sure dad remembers his beloved team's meltdown every morning with toast featuring the Leafs' logo. The two-slice toaster features adjustable settings, so you don't have to worry about your Leafs getting burned – again. Just make sure Dad has some orange juice nearby — in case the Leafs toast makes him choke. Dad not a Leaf's fan? The line of toasters, sandwich and waffle makers are available in all Canadian NHL team motifs. Canadian NHL toasters, $39.99, available online at Best Buy

Canada's king of stand-up comedy pulls no punches when it comes to his own dad, often sending audiences into fits of uncontrollable laughter with hilarious imitations of his Indian father. He recently became a father himself to Crystianna Marie, who was born prematurely and spent two months in the hospital. Luckily Peters' adorable daughter caught up quickly (he called her a 'heifer' at 9 pounds), and as this photo shows, he likes to incorporate her into his comedy. In 2011, she even made a cameo in his very first Christmas special.

Why We Love Him: Don't let his evil persona Dr. Snow a la Hunger Games fool you; the accomplished actor is also a caring father of five (to Kiefer, Rachel, Rossif, Angus and Roeg). A constant support system for his celebrity son Kiefer, Donald proudly described him as an "astonishingly good" actor at the unveiling of Keifer's star on the Hollywood Walk of Fame.

Why We Love Him: This dad blogger, who defines himself by his shiny bald head, has four children with the love of his life. None are biologically shared, and he maintains a long distance relationship with his partner, giving a modern take on what it means to parent. His posts reflect a joie de vivre and a tongue-in-cheek sense of humour. Did we mention he used to have hair?

Why We Love Him:Born in Ashern, Manitoba, actor Adam Beach is known for his roles in such blockbuster hits as Smoke Signals, Texas Ranger and Cowboys & Aliens. But he doesn't let fame get to his head; Beach is a devoted dad to his three children (Noah, 16, Luke, 18 and Phoenix, 4) and told Native Peoples magazine that when he's not being a father, he dedicates his free time to helping younger generations of first nations people in need of aid.

Why We Love Him: The beloved Michael J. Fox has won three Emmys, been awarded with Freedom of the City (from the city of Burnaby, BC) and has been a tireless advocate for Parkinson's disease research. He and his wife Tracy have four children, and Fox has said that his own diagnosis of the disease has made him a better father and overall human being.

Why We Love Him: This father of four and former NHL player currently resides in Calgary with his wife, where he once played for the Flames. His impressive hockey career ended in 2003 due to struggles with addiction, which Fleury has revealed were as a result of past sexual abuse at the hand of his coach. In 2009, he documented his experiences in a best-selling autobiography, and has since become an advocate and activist for survivors of child sexual abuse.

One of the world's finest turntablists and also an accomplished cartoonist, Eric San aka Kid Koala has taken fans on the most imaginative musical journeys with his impressive DJ skills. His recent foray into fatherhood with the birth of his daughter Maple inspired him to create Space Cadet, a wordless graphic novel with its own soundtrack about a guardian robot and his daughter. And even though he says she doesn't like his music, Maple is still cool with his hectic tour schedule and even likes touring with him.

Why We Love Him: While most people know him as the astronaut who made two groundbreaking treks into space, few know him as low-key father of two. His amazing kid ethos was confirmed when he told Canadian Medicine News that he tries to encourage children to follow their dreams wherever they may take them.

Why We Love Him:: This Canadian is an accomplished academic, science broadcaster and environmental activist. Strongly encouraged by his father, he is outspoken about passing lessons learned about hard work to his own children and grandchildren. And it may have paid off: his daughters Severn and Sarika share his passion for environmental activism, and the latter joins him on CBC's The Suzuki Diaries, where they explore sustainability issues across the country.

Why We Love Him: Family ties played an important role in the career of Canadian fashion designer and entrepreneur Joe Mimran; he grew up to the sound of a sewing machine. Later, with brother Saul, he launched the Alfred Sung collection, then went on to develop the minimalist style of Club Monaco and the popular fast-fashion brand Joe Fresh. He's not only made time to be an active dad for his four children, he's also been a mentor for his niece and nephew, Tamara and Jordin, as they launch a fashion line of their own.

Why We Love Him: After losing to Rob Ford in last year's mayoral election in Toronto, murmurs about gay fatherhood surfaced as a potential reason for Smitherman's loss. But this doesn't stop the politician from beaming about his growing family and children. In October 2011, The Star reported that he and his partner, Christopher Peloso, were adopting their second child, a little girl. Smitherman's commitment to family was highlighted even as he was defeated by Ford on election night. He told reporters: "What's next for me? You've seen what's next for me: his name is Michael and he's 23 months old."

Why We Love Him: This 32-year old father of three has harnessed his own dark memories of his absent father and is attempting to break the cycle. Tackling the unspoken topic of black fatherhood, Hay founded the Black Daddies Club to provide other like-minded fathers with parenting resources and support. By turning apathy into action, he is changing the face of fathers across the country.

Why We Love Him: Founder and executive chairman of Canada's top luxury men's wear store, Harry is an active philanthropist. Close to his family (4 children and 7 grandchildren), Harry works closely with his eldest son, Larry, who continues to grow his father's empire. Larry speaks proudly of his legendary father, toting him as an important mentor in his life.

Why We Love Him: This father of four pairs his commitment to environmental stewardship with parenting. His cool factor resides in the fact that he has been personally trained by Al Gore and David Suzuki to deliver a slideshow similar to the one in An Inconvenient Truth.

Why We Love Him: A champion of free speech and human rights, this widowed father of four and cyber guru established The Citizen Lab to combat internet surveillance and censorship. His firewall penetrating tool allows people in China and other countries to access websites through their mobile phones.

The hockey world lost one of its greats when Herb Carnegie passed away in March 2012. The Jamaican-born, Toronto-raised hockey player is generally acknowledged as the mighty talent who should have been the first black player in the NHL, but when offered a contract that paid him less than white players, Carnegie returned to play for Quebec leagues. His daughter recalls a time when Carnegie went awol mid-season just so he could return home to his family. After his hockey career, he created the Future Aces, a foundation to help empower youth through academics and sports, and was an active philanthropist.

Why We Love Him: This Scottish-Canadian improve comic genius has had a profound influence over his son, Luke, an avid fan of movies and music who has starred in several television series. Colin expresses fatherly praise for his son on his Twitter account, tweeting "Watch out Vedder" alongside a YouTube video of Luke and a friend singing a rendition of Hallelujah.

Why We Love Him: An admirable husband, businessman, and father, David Eddie chronicles his misadventures with all the grace and good humour one would expect of a Canadian dad. He provides honest and constructive lessons on life, both in his Globe and Mail advice column, and his recent book Damage Control. In his blog, he often shares his adoration for his children (in his last post, he was busy preparing for his son Adam's 8th birthday).

Why We Love Him: Decades after capturing world stage on his famous Man in Motion World Tour, Rick Hansen continues to inspire others living with disabilities. He has generated hundreds of millions of dollars for spinal cord research in his role as president and CEO of the Rick Hansen Foundation and he is an inspirational force for his three daughters, Emma, Alana, and Rebecca.

Why We Love Him: One of AOL Canada's own, Spinner.ca's Josh Ostroff is a pop-culture connoisseur. A storied journalist whose passions encompass music, television and politics, he's devoted dad who chronicles life with his adorable son, Emile, and wife Carrie for Toronto weekly The Grid and The Huffington Post Canada, giving a voice to involved fathers everywhere.

Why We Love Him: PEI-born Michael Smith is one of Canada's best-known and best-loved chefs. While he inspires families all across North America to create a healthy food lifestyle on air and now on the web (In 2011, he launched his own web series, Food Country), his favourite pastime is being an at-home dad with his family.
Want more? Be sure to check out HuffPost Canada Style on Twitter, Facebook and Pinterest.