Best Of Calgary: FFWD Readers Name Stephen Harper City's Best Villain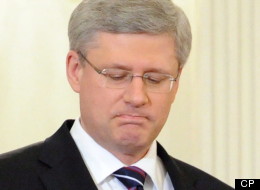 Readers Of Calgary magazine Fast Forward Weekly (FFWD) have rendered a scathing assessment of the city's most famous politician: Stephen Harper.
Harper makes appearances in a number of unflattering categories in FFWD' 15th annual Best of Calgary survey. Readers named the prime minister and MP for Calgary Southwest best local villain and most embarrassing citizen. Harper also comes in third in the claim to shame category.
Don't think this means Calgarians have a uniform dislike for politicians of all stripes. The city's Mayor Naheed Nenshi appears on the list as most beloved Calgarian, best Twitter personality and sexiest man.
To be fair, FFWD touts itself as a magazine with a "progressive style," common code for left-of-centre orientation. Harper took issue with the publication back in 2008, accusing FFWD of "gotcha journalism" over a story on comments made by Tory MP Lee Richardson on immigrants and crime.
The annual survey is based on submissions sent in by readers, but editors do play a role in organizing the information.
This is far from the first time Harper has been ranked unfavourably in a survey. The PM was named worst dressed male MP, MP with the worst sense of humour, biggest Scrooge to work for and biggest self-promoter in this year's Politically Savvy survey from The Hill Times.
Harper was recently ranked dead last by HuffPost readers in a vote for Canada's best prime minister of all time.