How To Win An Argument: 10 Tips To Win Debates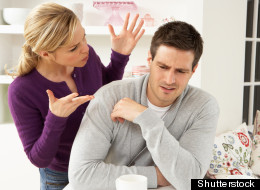 Do you know how to win an argument? We don't think so!
You'd better learn to quarrel up a storm, because from negotiating difficult deals at work to dealing with heated emotional conflicts, debating is a part of life. And tactics such as keeping quiet, finding an opponent's Achilles heel and suppressing emotion can help you get the upper hand -- and what you want -- in an argument, according to the video above by VideoJug.com.
We do suggest you debate with class and keep your relationship with the opponent top of mind, but apart from that, you have to do what it takes to win.
You can't argue with that. Or can you? Here are 10 ways how:
Low-talking is a Jack Donaghy-tested tactic in negotiations. Speak quietly and your disputant has no choice but to work that much harder to contend with you.

Knowing your stuff can boost confidence levels, although some people have been known to fake it until they make it -- something we don't advise. Instead, call your opponent's bluff by checking their facts, too.

By perking up your ears to your fellow debater's argument, you can refine your own. Also, those who take the time to listen before they speak appear in control, according to psychiatrist and author Julian Short. "The less invasive you are, the more potent you are," he told Stylist.co.uk.

Find your rival's weakness to tip him/her off balance. Try asking questions in quick succession, the video above suggests. You can even make your opponent sweat by asking them to prove their claims or answer hypothetical questions -- just make sure you stay in control, Lifehack.org advises.

When your contender goes off on a tangent, don't take the bait. Your adversary might try to trick you this way, Focus.com says. "Take this as a sign that he feels threatened you'll win, and steer the subject back to the original," the site advises.

Whether you mean it or not, apologizing may catch your opponent off-guard giving you the upper hand, according to the video above.

While unruly emotions may rear their ugly heads during heated arguments, arguing without emotion is impossible (and kind of pointless). Instead, keep emotions under control, or use them to sway your opponent if you think they'll bite. Which brings us to the next tip...

You can use an iron fist to maintain authority during an argument, but don't lose your cool. Control your anger during an argument, avoid using hurtful language, and never ever use violence, Pickthebrain.com says.

To resolve a dispute, let your opponent think they came up with a solution you had in mind all along, the video suggests.

You can't lose if you don't speak. You can even try using non-verbal cues to persuade your rival, such as mirroring their stance, aligning yourself with the other person to diffuse confrontation, or using a hands-down gesture to calm tempers, according to Forbes.com.