Canadian National Canthem: 'O Canada' Performed With Molson Beer Cans, Bottles (VIDEO)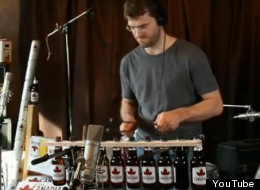 Chances are you'll be hearing lots of 'O Canada' this weekend, it being Canada Day and all.
Not to feel left out, the people at Molson, asked musicians to perform this rendition of our anthem with nothing but beer cans and bottles.
Because, what could be more patriotic than performing 'O Canada' with one of the country's iconic beverages. We expect that some of you may try this at the cottage this weekend. Please, send us the video if you do.
Also, we expect Tim Hortons' to follow suit and do something equally Canadian. A Group Of Seven painting recreated with Tim Bits?
Here's some other amazing renditions of 'O Canada'
Singing The Canadian National Anthem
Singer and Youtube sensation Maria Aragon sings 'O Canada' on Canada Day in 2011.

Canadian singer Melanie Fiona sings 'O Canada' at the 2011 NBA All Star Game.

"O Canada" performed by Mark Donnelly along with the Great Vancouver crowd in GM Place.

Equinox Quartet singing the "O Canada."

Geddy Lee, member of rock band RUSH, sings the anthem for the 1993 All-Star Game.

'O Canada' as sung by the Habs fans at the Bell Centre.

Nikki Yanofsky singing the Canadian Anthem for the Vancouver 2010 opening ceremony.

Anne Murray sings both the American and Canadian national anthems, at a Toronto Blue Jays game on June 5, 1989.

Sarah McLachlan singing the anthem in 1996.

Justin Bieber sings a part of 'O Canada,' on the Lopez Tonight show.

Canadian singer and songerwriter Jann Arden singing O' Canada at the Grey Cup Game in Vancouver on Nov 27, 2011.

Alanis Morissette sings the anthem at the Stanley Cup Playoffs Finals in 2007.

Céline Dion sings 'O Canada' in 1992.

'O Canada' as sung by the Rexall crowd before the Oilers' Stanley Cup playoff game vs. The Mighty Ducks of Anaheim in 2006.