Making Denim Cut-Offs: We Tried It And Almost Succeeded - Put To The Test (VIDEO, PHOTOS)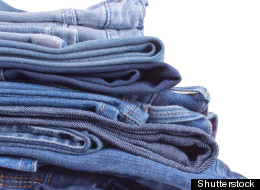 At some point, we've all purchased something whose results were, er, questionable, and didn't live up to our expectations or deliver the results we were so boldly promised. But no more! For the sake of you and your hard-earned money, The Huffington Post Canada Style team is putting the latest products to the test every week.
Testing: FabSugar's How-to video to make your own cut-off jean shorts
Testing Period: Approximately 20 minutes
Tested By: Meredith Gillies, Associate Editor, Style
Price: $10 + Tax
What It Is: An online how-to video which teaches you how to make your very own jorts (jean + shorts= jorts). With just a few steps, you will have a brand-new pair of shorts that cost significantly less than a pair of cut-offs sold in stores.
How To: Follow the video instructions! Your video guide Alison McNamara takes you through the steps slowly enough so you can follow along with only a few pauses along the way. It's mainly the step of cutting through the denim that takes a little bit longer. The steps are so basic (lay out jeans, measure, cut) you'll wonder why you ever bought a pair of vintage cut-offs.
What We Thought: For someone who is the least crafty person on planet Earth, this was the easiest DIY I've ever attempted, and with good results. I'm unique in the fact that I bought second-hand jeans without checking first to see whether they would fit around my thighs and booty. So alas, I made jorts for a Cabbage Patch Kid-sized person, but they look really good otherwise.
I'm really into the denim cut-off in the summer because of the ease of wearing it all the time. They are comfortable and look good with every shirt already in my closet. I bought white Levis because I thought it was something that my closet was lacking, but alas, they are too small.
The Downfalls: Other than the jorts not fitting whatsoever, I found nothing wrong with this how-to. When one of the ladies of the office managed to get the jorts on, they looked awesome (even though she couldn't do the button up).
Tips: Try your clothes on first -- A life lesson I must have missed somewhere along the road. And measure twice, cut once! Just like a good carpenter. You don't want two short legs that are different lengths.
Final Remarks: I'm going to try this how-to again but this time with an oversized pair of jeans. Perhaps even a men's pair like the video suggests. Having baggy denim shorts for the hottest months will definitely be ideal.
Our step-by-step guide to making a solid pair of jorts:
All you need is a pair of scissors, a ruler and a pencil.

And jeans of course White Levis Jeans, size 26. Cost: $10 at Black Market in Toronto.

So you don't hack the pockets off, because what would be worse?

I did 4 inches from the inseam just so I could have some extra length to cuff the shorts when they were done.

I feel the curved line is what sets this video apart because when you cut straight across the leg, the shorts look wonky.

Snip! Snip! Snip!

...one to go.

Fold the jeans instead of measuring so they are the same length that you cut. (I can't cut on a straight line)

Voila! Jorts!

These may be the world's smallest jorts but they look awesome with our blog editor's long striped Tee.
Do you have something you want us to test out? Let us know @HuffPostCaStyle.
Check out the other products we have put to the test:
What We Thought: This de-puffing roller treatment came exactly at the right time. Summer for me, means late nights and early mornings which also means dark circles. I had high hopes for this rollerstick but unfortunately, I didn't see a change in the dark circles. However, I think these circles are engrained in my skin now. What I did really enjoy about it was how cooling it was every morning. After a long night out, it was a nice little treat every morning around my eyes. It didn't look greasy as some under-eye treatments do so that was a definite bonus.

What We Thought: At first I was weary about wearing fake eyelashes out in public (my daily beauty routine is super simple), but it was nice to have really thick and full lashes for a night out. They looked natural, and they looked great on my best friend who also tried a pair (she has shorter lashes than i do). I really liked the fact these lashes were self-adhesive -- I didn't have to deal with globs of glue accumulating on my lash line. I even slept in them -- they were still on and looking good in the morning! Pretty impressive. Read the story here

What We Thought: I tested this product before bed and it gave my hair a perfect I-just-stepped-out-of-the-ocean-look. It's perfect for summer. Unfortunately, the look didn't last until morning, which means every a.m. you'll have to redo the above process if you want to maintain a seaside hairstyle. Read the post here.

What We Thought: After using the brush four to five times I did notice a few things. For starters, it actually does the job of collecting excess water from your hair. I tried it once getting out of the shower and after drying my hair with a towel -- in both cases there was less water dripping from my hair and all over my clothes. Secondly, this brush does an amazing job of untangling locks. My hair is naturally straight so it only took me one to two strokes to achieve smooth straight hair. The brush is also very light, so you don't have to worry about it getting heavy as it fills with H2O.Read the post here.

What We Thought: With the changing season, my hair tends to dry out. After using the oil about seven to eight times every other day (and washing my hair) I did notice my hair felt more hydrated and, generally, softer. My roots and ends were in better shape, too -- even after using a heated iron. The oil is very lightweight, which won't make your locks look or feel heavy. Read the story here.

What We Thought: My lashes are not that long in length and also tend to fall out. For the most part, I didn't notice any change in the length of my lashes, but they did feel thicker. When I applied regular mascara my lashes were fuller and after two weeks, fell out less.Read the post here.

What We Thought: If you're like me, your hair is destined to be oily. I often forgo conditioner or anything moisturizing for my hair. I also stay away from gels and hairspray. I wanted to use dry shampoo to save time and to avoid washing my hair everyday. For the most part, it worked -- and because it's LUSH, it smells fantastic.Read the post here.

What We Thought: It was fantastic to have the most blinged out nails at a party. It caught people's eyes and had them asking questions about "how" -- and sometimes "why" -- our nails got so bedazzled. Without nail polish underneath the stickers, the whole look seemed a little strange, though. Read the post here.

What We Thought: This was the easiest instant nail lift we've ever had. The entire process took about 10 minutes, and we didn't have to fret about trimming the press-ons in various shapes to fit our fingers (they were the perfect size!). Due to the sheer simplicity of the process, this pack is perfect for when you're running behind schedule and don't have time to actually paint your nails and wait for them to dry. Read the post here
Want more? Be sure to check out HuffPost Canada Style on Twitter, Facebook and Pinterest.
You say you want to wear a Canadian tuxedo this summer? Then watch this video!