Is Katie Holmes The New Face Of J.Crew?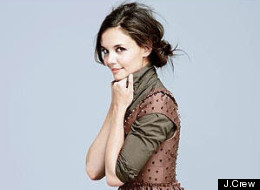 Celebrity brand endorsements aren't a new thing. Chloe Moretz is working with Aeropostale, Kristen Stewart is tied to Balenciaga, Emma Watson is the face of Lancome (we could go on).
But a rumour about one of our favourite style stars teaming up with a big sartorial name has us particularly excited: several outlets are reporting Katie Holmes could be the new face of J.Crew.
Now, it's no secret we love the chain's preppy clothing. Or that we're impressed with Katie Holmes' post-divorce style. It's just, well, this match up really makes sense to us.
The actress, singer and designer once appeared in the company's ad campaigns, alongside other stars like Josh Duhamel and Malin Akerman. And, as Joey Potter, she showcased she has the chops to pull off J.Crew's particularly preppy style.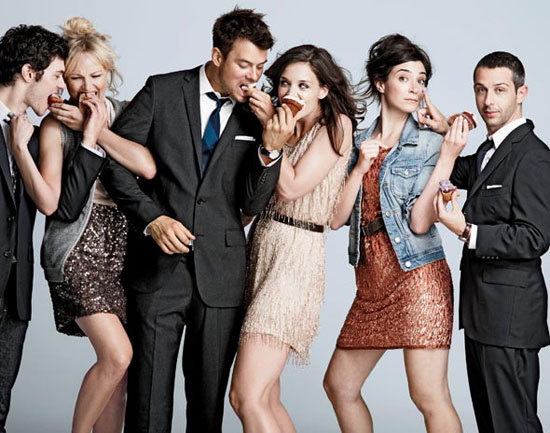 The rumours started after Holmes was spotted visiting a J.Crew store in New York City four times in the same week. And Refinery 29 is reporting the newly-single mom is a loyal fan of the brand.
So will it actually happen?
According to Women's Wear Daily, a J.Crew spokesperson says they're not in "formal" talks with Tom Cruise's ex. But who really knows.
From our vantage point, this is one collaboration we could definitely get behind.
What say you? Let us know on Twitter.
And watch Katie Holmes' style evolve over the years.
Style Evolution: Katie Holmes
MTV Movie Awards, 2000, L.A. Katie's early red carpet style - a printed halter with choker - isn't the most figure-flattering option on the tall, slim star.

Boys & Girls premiere, 2000, New York Back in 2000, Katie's premiere style consisted of double-denim, strappy sandals and a tiny snakeskin clutch.

American Pie 2 premiere, 2001, CA Katie supported then-boyfriend Chris Klein in a sleek LBD for the premiere of American Pie 2. We only wish she'd gone more adventurous with the accessories.

100th episode of Dawson's Creek celebration, 2002, New York Katie cut a polished - and also rather sombre - figure dressed all in black to celebrate the 100th episode of the TV show that propelled her into the limelight.

Red Dragon premiere, 2002, New York Katie keeps it casual and cute in jeans and a velvet jacket on the red carpet.

Pieces of April premiere, 2003, New York The actress looks gorgeous in a floral frock at the premiere of her latest movie, Pieces of April. She gets bonus points for matching her dress to her movie poster.

The Singing Detective premiere, 2003, New York Katie goes for a sweet and simple look with a half updo and embellished black dress. The clunky shoes spoil the delicate effect of the rest of the outfit.

Vanity Fair Oscar party, 2004, L.A. The actress keeps it simple in a black backless gown with matching shawl for the 2004 Vanity Fair Oscar party.

Stella McCartney store party, 2004, London Katie looks radiant in this asymmetric maxi by Stella McCartney.

Harry Potter and the Prisoner of Azkaban premiere, 2004, London Eek! Katie's premiere style needs some of Harry Potter's magic to look good. The red patent shoes and clutch look cheap and the printed top doesn't fit well.

Glamour Women of the Year Awards, 2004, New York Katie works some Old Hollywood glamour on the red carpet in this red hot look, which makes us believe that a red dress, bag, shoes and lip can actually look good together.

Vera Wang runway presentation, 2005, New York Katie's a big fan of the statement coat, and this well-cut white version looks great with her gold Vera Wang skirt and metallic accessories.

VH1 Save the Music benefit concert, 2005, New York We're digging Katie's rock-chick look at this VH1 benefit concert in 2005, and the star's sleek-straight locks complement the boho outfit beautifully.

David di Donatello Italian film awards, 2005, Rome We're not big fans of this embellished number Katie wore back in 2005, but Tom, who's trying to have some serious PDA action, doesn't seem to mind it.

Batman Begins premiere, 2005, Paris Katie looks lovely in this two-tone dress for the Paris premiere of Batman Begins.

Batman Begins premiere, 2005, Berlin Red is definitely her colour. Katie sticks to her preferred simple silhouettes and looks regal in red in this strapless dress in Berlin.

The War of the World premiere, 2005, London To support boyfriend Tom Cruise, Katie chooses this midnight blue embellished slip dress and pin curls for a romantic red carpet look.

Leaving Azzedine Alaďa's workshop, 2006, Paris Katie shows off a more mature, sophisticated look as she's spotted out and about in Paris in 2006.

Chanel fashion show, 2006, Paris Katie looks sharp in Chanel with new BFF Victoria Beckham, who will prove very influential in shaping Katie's fashion persona over the next couple of years.

Leaving the hotel, 2006, Rome Katie looks radiant in a silk top and trousers as she and fiancé Tom show off the newest addition to the family, baby Suri.

Hairspray premiere, 2007, New York The actress debuts a new funky bob haircut (inspired by pal Victoria Beckham?) and uncharacteristically shows some leg in a mini-dress on the red carpet.

Lions for Lambs premiere, 2007, Berlin Katie got her sparkle on in this shimmering Armani frock; we only wish the drop-waist bubble skirt was more flattering on her slim physique.

23rd Annual Moving Image Salute Gala, 2007, New York In one of her best red carpet looks ever, Katie rocks a side-swept fringe and gorgeous backless velvet gown by Hermčs.

Bambi Awards, 2007, Germany The actress shocks on the red carpet with her dramatic blunt bob, and works a shimmering caped-shoulder dress by Monique Lhuillier. Another style hit, and proof that Holmes has officially ditched her squeaky clean style persona.

Essence Black Women in Hollywood luncheon, 2008, L.A. The actress works a chic luncheon look in this printed Alexander McQueen dress, which celebs Sienna Miller and Lucy Liu have also been spotted in.

Costume Institute Gala, 2008, New York Katie turned heads in this radiant red dress by Giorgio Armani. We were iffy about the royal blue shoes at first, but considering the year's theme was "Superheroes," we think it's a cheeky reference to Superman and Wonder Woman's colour palette, which makes us love the risk.

Tropic Thunder premiere, 2008, L.A. Katie is looking increasingly like pal Victoria Beckham on the red carpet with her shaggy pixie style and fitted ensembles, like this leather bodice dress Holmes designed with stylist Jeanne Yang under the Holmes & Yang label.

Valkyrie premiere, 2009, Rio de Janeiro Katie opts for a vintage Christian Lacroix dress on the red carpet in Rip, and this look is one of our favourites on the star. Bonus points for being completely unexpected and unlike her usual red carpet choices.

Knight and Day premiere, 2010, Seville The star shows off her sexy side in head-to-toe Azzedine Alaďa as she tangos on the red carpet with hubby Tom. Our verdict? Muy caliente!

Variety's 2nd Annual Power of Women Luncheon, 2010, Beverly Hills We love the idea of this Louis Vuitton dress on the star, but the reality isn't amazing - she decided to shorten it and the hemline's unravelling before our eyes. Eep!

56th Annual Drama Desk Awards, 2011, New York The star looks gorgeous in this fuchsia pleated maxi dress from her own label, Holmes & Yang as she steps out for the Drama Desk Awards in 2011.

63rd Annual Primetime Emmy Awards, 2011, L.A. Katie goes back to her minimalist roots with this pretty electric blue Calvin Klein frock, topped off with gorgeous dewy makeup and a messy bun.

Street style, 2011, New York The Spring 2011 Ann Taylor campaign face looks the part of the American brand as she steps out in sharp separates like these flared jeans, suede shoes and a timeless camel coat.

Vanity Fair Oscar Party, 2012, L.A. Katie stuns in this Elie Saab Couture gown at the 2012 Vanity Fair Oscar party, in a gorgeous blue hue that fits the star like a glove and highlights her pretty shoulders.