British Columbia's drive to become a major contender in the liquefied natural gas industry may be dashed by global competition for the Asian market, which is eroding the financials behind big LNG projects planned for the province, industry watchers say.
There are at least four LNG projects in the planning stages in British Columbia, where some of the world's biggest players are attempting to cash in on the province's rich shale gas deposits. Headed by such multinationals as Houston-based Apache Corp., Royal Dutch Shell and Malaysia's Petronas, three are planned for the coastal city of Kitimat, while a fourth is earmarked for Lelu Island, off the coast of Prince Rupert.
While two of these projects have received regulatory approval from the National Energy Board (NEB), none has secured financing or committed investment dollars for construction.
Like the development of potash in Saskatchewan or offshore oil in Newfoundland and Labrador, B.C. is banking on the potential of LNG exports to transform the economy. A major pillar of its jobs plan, the government has committed to the development of three LNG facilities by 2020, projects it says could create up to 9,000 construction jobs and generate more than $20 billion in direct new investment.
ON SHAKY GROUND
But Ben Parfitt, a resource policy analyst for the Canadian Centre for Policy Alternatives, has serious doubts about the future of an industry he says is already on shaky ground.
"It is not at all clear to me that we're actually going to end up with liquefied natural gas plants in Western Canada," Parfitt told The Huffington Post.
"There has been a huge push by the provincial government to try and make this happen, but we have yet to see actual investments and investment commitments to put the pipeline in place for these facilities."
With an oversupply of natural gas deeply depressing North American prices, the proposals envision multi-million-dollar plants capable of compressing the resource into LNG, a supercooled liquefied form of natural gas that can be shipped via tanker to Asia, where demand is expected to soar.
It's a big financial commitment that the government is eager for industry to make.
In February, B.C. announced it would relax its electricity policy in part to ensure that there is enough power supply for the proposed LNG plants, which are huge consumers of electricity. (In a recent report, BC Hydro said it had sufficient hydroelectric supply to meet the needs of the two LNG projects that have been granted regulatory approval, and is exploring options to meet additional demand from other facilities.)
GLOBAL FOOT RACE
"British Columbia is in a foot race with countries such as Australia, Qatar and the United States who are interested in exporting LNG, so we are moving quickly," B.C. Minister of Energy and Mines Rich Coleman said at the time.
"Our plans are designed to ensure B.C. accelerates the pace of development so we can secure new contracts and seize investment while such lucrative opportunities are available."
In another fast-tracking effort, Premier Christy Clark pledged in May to amend the definition of "clean" energy in the Clean Energy Act to include natural gas used to fuel LNG plants in northern B.C. The act requires that B.C. get 93 per cent of its electricity from clean energy sources.
Coleman's office declined an interview request from HuffPost, but in an email, the ministry said there are "currently no concerns" about the effect of other LNG projects around the world on the economic viability of those planned for B.C.
According to the ministry, increasing global demand for LNG supports accelerated LNG growth.
"There is a projected gap in supply to meet projected demand, especially when growth in Asia is considered," the ministry said. "This means B.C.'s LNG can be part of the marketplace that supports diversification of the energy portfolio mix in Asia."
The ministry said interest for major LNG proponents has increased substantially since the release of the BC Jobs Plan last year, which highlighted LNG development as a key component of the province's long-term economic vision.
"We are very much on pace to see our goal of three LNG facilities in operation by 2020," the ministry said.
FRACKING ADVANCEMENTS
The government's plan comes as advancements in hydraulic fracturing, commonly known as fracking, have made it easier to extract unconventional natural gas from shale rock. These changes have increased supply, driven down North American prices and slowed the development of the province's plentiful shale-gas deposits. In addition to the shale-gas fields already in play, Apache, one of three companies behind a major LNG facility planned for Kitimat, recently announced another massive find in the remote Liard Basin.
Located in the northeast corner of the province, just south of the Yukon border, the company said the deposit contains as much as 48 trillion cubic feet of recoverable natural gas, possibly one of the richest shale-gas finds in the world. (The company has yet to release a figure for "proven reserves" — what it realistically expects to extract based on current economic conditions, considered to be a more accurate estimate of a site's potential.)
Parfitt said the province's efforts may not be enough to prompt industry to commit the "substantial" dollars required to tap remote shale-gas finds like this one — or get LNG development off the ground in B.C., particularly with large-scale facilities in other countries positioned to come online sooner.
"The people that are kicking the tires on LNG facilities here are acutely aware that LNG facilities are being built elsewhere in the world," he said, adding that many of those developments are occurring in closer proximity to Asian markets.
"What happens here does not happen in isolation," he said.
There are now 23 projects in various stages of development in Australia, in addition to two LNG plants already in operation, Alberta Oil reports, positioning that country to have more production capacity than Qatar, which is currently the world's largest LNG exporter. In the United States, meanwhile, the federal government in April granted a license to Cheniere Energy for an LNG export facility in Louisiana, and seven more projects are awaiting the go-ahead.
"The whole world that has access to natural gas is going LNG at the same time," said Bob Simpson, Independent MLA for Cariboo North. "B.C. comes really late into the LNG marketplace."
Simpson points to the extensive pipeline and other infrastructure that will be required to connect the shale gas fields in northeast B.C. to the coast, as well as the amount of energy needed to run LNG plants, as additional roadblocks.
"B.C. is going to be a very expensive [place] to get the natural gas coming out of the ground … over to Asia," he said.
But Ed Kallio, Calgary-based director of gas consulting for Ziff Energy Group, said B.C. remains on track to take a sizeable slice of the Asian LNG marketplace.
In terms of construction costs, Kallio said the LNG projects planned in B.C. are on par or less expensive than those planned for Australia, where an overheated economy has resulted in significant run-ups in capital expenditures as production costs increase.
"We see really good drivers [for LNG] in B.C.," he said.
Although Kallio says there will be competition from the suite of LNG projects slated to come online, he predicts that demand will also increase in the coming years, tightening the market for LNG. His firm predicts the Asian LNG market will grow by 6.6 per cent annually to 35 billion cubic feet per day by 2020.
"I think the Canadian projects will be set up pretty well to supply some of that tightening," he said.
But it's still a long road for those leading the charge.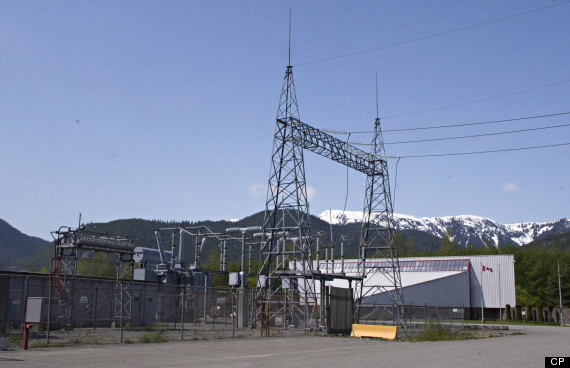 Shell PLC and three Asian partners plan to build a liquefied natural gas export terminal in Kitimat, B.C. on the site of a decommissioned ammonia plant in Kitimat, B.C.(Robin Rowland/The Canadian Press)
Kitimat LNG, owned by Apache, EOG Resources Inc. and Calgary-based Encana, received NEB approval in October to export up to 10 million tonnes a year of LNG for 20 years. Although it was initially slated to come online in 2016, startup was recently delayed until 2017 as the company looks to sew up contracts with Asian buyers. The project is expected to cost $15 billion.
None of the companies behind Kitimat LNG provided HuffPost with details about the timeline for committing financing for the project or how those costs would break down.
But Encana spokesman Jay Averill said the company stands behind the proposal.
"The world needs a lot of energy and natural gas is one aspect that can help meet that need," he said. "When you look at the economics of it, it really makes sense to work at making natural gas a global commodity versus a North American one. That's why we're participating in the project."
The NEB gave a similar license to BC LNG Export Co-operative in February to export 36 million tonnes of LNG over 20 years.
Tom Tatham, managing director for the project, said he expects to secure a $450-million construction loan in the near future, and begin purchasing long lead items early next year, with an eye toward exporting the first shipment of LNG in late 2014.
He said BC LNG benefits from a unique co-op structure with 16 gas companies and the use of the existing Pacific Northern Gas Pipeline. Haisla First Nation has a 50-per-cent stake in the project.
Tatham said BC LNG will come online sooner than any of the proposed U.S. projects, with the possible exception of the Cheniere export facility in Louisiana, slated to begin production at about the same time.
"We'll certainly be able to accomplish our initial development, simply because our timing is better than almost anyone else's," he said. "Where we go from there is anybody's guess."
Meanwhile, in May, Royal Dutch Shell, PetroChina, Mitsubishi Corp. and Korea Gas Corp. announced plans for yet another Kitimat-based LNG plant. Dubbed LNG Canada, said to be worth more than $12-billion, would ship 12 million tonnes a year, and would ideally come online at the end of the decade. The Anglo-Dutch energy giant has a 40-per-cent stake in the project, with the remainder split evenly between the Asian companies.
Although it has yet to receive regulatory approval, the Shell project got a big lift in June when TransCanada Corp. said it would build a $4-billion pipeline to connect B.C.'s natural gas-rich Montney basin with the Kitimat plant.
Malaysia's Petronas is also planning a LNG project on Lelu Island, off the coast of Prince Rupert, which would ship 7.4 million tonnes a year to Asia beginning in 2018.
"There's a lot of momentum here," says Kallio. "They're not all going to get built, but some of them are."
Parfitt is far less certain. But as he points out, LNG exports are only one way that producers can profit from B.C.'s natural gas reserves, which could be converted into fuels such as diesel, among other uses.
"If we end up in a situation where we see these LNG facilities not being built, it doesn't necessarily translate into a death knell for the industry," he said. "It just means that the industry will have to look for other ways to add value."
Also on HuffPost:
Loading Slideshow
10. Oil And Gas Accounts For 4.8 Per Cent Of GDP

The oil and gas industries accounted for around $65 billion of economic activity in Canada annually in recent years, or slightly less than 5 per cent of GDP. Source: <a href="http://www.ceri.ca/docs/2010-10-05CERIOilandGasReport.pdf" target="_hplink">Canada Energy Research Institute</a>

9. Oil Exports Have Grown Tenfold Since 1980

Canada exported some 12,000 cubic metres of oil per day in 1980. By 2010, that number had grown to 112,000 cubic metres daily. Source: <a href="http://membernet.capp.ca/SHB/Sheet.asp?SectionID=9&SheetID=224" target="_hplink">Canadian Association of Petroleum Producers</a>

8. Refining Didn't Grow At All As Exports Boomed

Canada refined 300,000 cubic metres daily in 1980; in 2010, that number was slightly down, to 291,000, even though exports of oil had grown tenfold in that time. Source: <a href="http://membernet.capp.ca/SHB/Sheet.asp?SectionID=7&SheetID=104" target="_hplink">Canadian Association of Petroleum Producers</a>

7. 97 Per Cent Of Oil Exports Go To The U.S.

Despite talk by the federal government that it wants to open Asian markets to Canadian oil, the vast majority of exports still go to the United States -- 97 per cent as of 2009. Source: <a href="http://www.nrcan.gc.ca/statistics-facts/energy/895" target="_hplink">Natural Resources Canada</a>

6. Canada Has World's 2nd-Largest Proven Oil Reserves

Canada's proven reserves of 175 billion barrels of oil -- the vast majority of it trapped in the oil sands -- is the second-largest oil stash in the world, after Saudi Arabia's 267 billion. Source: <a href="http://www.ogj.com/index.html" target="_hplink">Oil & Gas Journal</a>

5. Two-Thirds Of Oil Sands Bitumen Goes To U.S.

One-third of Canada's oil sands bitumen stays in the country, and is refined into gasoline, heating oil and diesel. Source: <a href="http://www.nrcan.gc.ca/statistics-facts/energy/895" target="_hplink">Natural Resources Canada</a>

4. Alberta Is Two-Thirds Of The Industry

Despite its reputation as the undisputed centre of Canada's oil industry, Alberta accounts for only two-thirds of energy production. British Columbia and Saskatchewan are the second and third-largest producers. Source: <a href="http://www.nrcan.gc.ca/statistics-facts/energy/895" target="_hplink">Natural Resources Canada</a>

3. Alberta Will Reap $1.2 Trillion From Oil Sands

Alberta' government <a href="http://www.huffingtonpost.ca/2012/03/27/alberta-oil-sands-royalties-ceri_n_1382640.html" target="_hplink">will reap $1.2 trillion in royalties from the oil sands over the next 35 years</a>, according to the Canadian Energy Research Institute.

2. Canadian Oil Consumption Has Stayed Flat

Thanks to improvements in energy efficiency, and a weakening of the country's manufacturing base, oil consumption in Canada has had virtually no net change in 30 years. Consumption went from 287,000 cubic metres daily in 1980 to 260,000 cubic metres daily in 2010. Source: Source: <a href="http://membernet.capp.ca/SHB/Sheet.asp?SectionID=6&SheetID=99" target="_hplink">Canadian Association of Petroleum Producers</a>

1. 250,000 Jobs.. Plus Many More?

The National Energy Board says oil and gas employs 257,000 people in Canada, not including gas station employees. And the Canadian Association of Petroleum Producers says the oil sands alone <a href="http://www.capp.ca/aboutUs/mediaCentre/NewsReleases/Pages/OilsandsaCanadianjobcreator.aspx" target="_hplink">will grow from 75,000 jobs to 905,000 jobs by 2035</a> -- assuming, of course, the price of oil holds up.