The 11 Most Ridiculously Flattering Things The Media Has Said About Justin Trudeau (PHOTOS)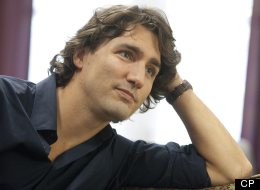 As the Canadian media waits with bated breath for Justin Trudeau's decision on whether he'll run for the leadership of the Liberals, journalists are taking the time to tell us just how awesome he really is.
And the consensus is in. He's really awesome.
While some aren't sure if the 40 year old is ready to lead a national party, it seems everyone agrees on one thing: He's really, really, really ridiculously good looking.
So in honour of our media's embrace of this second round of Trudeaumania (and partly out of inspiration from Buzzfeed's listicle headline generator), here are the 11 most ridiculously flattering things the media has said about Trudeau so far this year.
11 Ridiculous Media Compliments For Trudeau
Justin Trudeau has captured the imagination of Canada's political media. Here are the 11 most ridiculously flattering things they've said about him so far this year.

- Warren Kinsella

"Justin Trudeau does not shake your hand; he inhabits it. The wrist cocks out and up, the fingertips down; the elbow shoots off to his right; the shoulder rises slightly. Then a friendly grin dawns as he delivers a firm but not crushing grip, looking you in the eye, with a twinkle in his own. The effect is of someone who is warm, slightly embarrassed by the fuss, almost goofy, and genuinely happy to meet you. It is likely that some of this is practised; he would have spent his early social years deflecting other peoples' preconceived ideas about class and snobbery. Either way, it is effective. The man is genuinely, immensely likable." - Michael Den Tandt

"Trudeau is part Sisyphus, driven by his nature and upbringing to push his political rock up the hill. And he is part Icarus, driven to prove himself in spectacular ways, whether by crossing rapids, speaking off the cuff about separatism or exposing himself to defeat and humiliation in the ring." - Michael Den Tandt

"A leadership race without Justin Trudeau would be both Hamlet without the Prince of Denmark, and one more yawn before sleep." - Rex Murphy

"Mr. Trudeau is tantalizing, but whether he is galvanizing is another question." - Lawrence Martin

"He isn't an old fart. The Liberal party -- like the Conservatives -- has been run by, and for, old farts for too long. The party is in desperate need of a new generation of leadership. Trudeau, like Barack Obama in 2008, has the greatest ability to mobilize young people to work for him, and vote for him." - Warren Kinsella

"You, with the expressive mane of hair and the explosive pronouncements that sometimes rival the idiocy of our other Justin, the Beeb." - Judith Timson

"Under his suit jacket, the sleeve buttons on his dress shirt were undone. His necktie was knotted, but left loose over an open top button. His mane of black hair was tousled. Even in genteel disarray, even dressed more or less like a couple hundred of his parliamentary colleagues, the 40-year-old Liberal MP for the Montreal riding of Papineau looked like a million bucks." - Paul Wells

"He's got more charisma than the royal family and Lady Gaga combined. In Ottawa, which is Hollywood for ugly people, that matters. To win, political parties need some sizzle with their steak; Trudeau has sizzle in abundance. On the election hustings, when measured against Trudeau, Stephen Harper and Thomas Mulcair will look like Angry Old Guys, because, er, they are." - Warren Kinsella

"The 41-year-old Liberal MP from the Montreal riding of Papineau, impossibly handsome, charming and much more comfortable in his skin than the bearer of such an iconic yet troublesome political name has any right to be..." - Judith Timson

"So the rail-thin, lion-maned clothes horse with dimples like moon craters, a giant-killing right hook and a weapons-grade surname will position himself as the loyal helpmate of a post-leadership-fixation Liberal Party? It's so crazy it just might work." - Paul Wells
Surprising Justin Trudeau Facts
With talk of Trudeau making a bid for the Liberal leadership reaching a fever pitch (again), HuffPost takes a look at some surprising facts about Canada's perpetual PM-in-waiting. (CP)

Trudeau's maternal grandfather James Sinclair was a Liberal MP and cabinet minister in Louis St.-Laurent's government in the 1950s. (House of Commons) CORRECTION: An earlier version of this slide incorrectly said Sinclair was a Progressive Conservative MP.

Trudeau was only the second child ever to be born while a parent was prime minister. The first was John A. Macdonald's youngest daughter Margaret Mary Macdonald. Trudeau's younger brothers, Alexandre (Sacha) and Michel were the third and fourth. (CP)

Trudeau has a Bachelor of Arts degree from McGill and a Bachelor of Education from UBC. He also studied engineering at the Université de Montréal and environmental geography at McGill, but never finished degrees in those fields.

While fathers Brian Mulroney and Pierre Trudeau were rivals, sons Justin and Ben are friends. Mulroney attended Trudeau's wedding to Sophie Grégoire. Grégoire has worked as Quebec correspondent for CTV's eTalk, which is hosted by Mulroney. (CP)

Trudeau didn't have cake at his wedding, with Sophie arguing that people never eat it anyway. (Shutterstock)

Trudeau entered the world on December 25, 1971.

Trudeau has a large tattoo on his left shoulder. The planet Earth inside a Haida raven. Trudeau got the globe tattoo when he was 23 and the raven when he turned 40. (Media Ball)

Trudeau and his wife Sophie have two children, Xavier James (4) and Ella-Grace Margaret (3). Both are partially named after family. Xavier James is named after Trudeau's maternal grandfather James Sinclair (the politician) and Ella-Grace Margaret is named after Trudeau's mother Margaret and Grace Elliot, Trudeau's paternal grandmother. Xavier also happens to share a birthday with Pierre Elliott Trudeau. (CP)

Trudeau played Talbot Mercer Papineau in the 2007 CBC miniseries "The Great War."

Trudeau is prime minister in the dystopian future portrayed in the video game Deus Ex: Human Revolution. (CP)

Sophie used to visit the Trudeau family home when she was a child. She was a classmate and friend of Trudeau's youngest brother Michel, who died tragically in a B.C. avalanche in 1998. Justin and Sophie made contact again at a fundraiser in 2003 and soon after began dating. Trudeau was so smitten that he declared they would spend the rest of their lives together on the very first date. (CP)
11. "He's got great hair"
- Warren Kinsella
10. "The man is genuinely, immensely likable"
"Justin Trudeau does not shake your hand; he inhabits it. The wrist cocks out and up, the fingertips down; the elbow shoots off to his right; the shoulder rises slightly. Then a friendly grin dawns as he delivers a firm but not crushing grip, looking you in the eye, with a twinkle in his own. The effect is of someone who is warm, slightly embarrassed by the fuss, almost goofy, and genuinely happy to meet you. It is likely that some of this is practised; he would have spent his early social years deflecting other peoples' preconceived ideas about class and snobbery. Either way, it is effective. The man is genuinely, immensely likable." - Michael Den Tandt
9. Sisyphus & Icarus?
"Trudeau is part Sisyphus, driven by his nature and upbringing to push his political rock up the hill. And he is part Icarus, driven to prove himself in spectacular ways, whether by crossing rapids, speaking off the cuff about separatism or exposing himself to defeat and humiliation in the ring." - Michael Den Tandt
8. Or Hamlet?
A leadership race without Justin Trudeau would be both Hamlet without the Prince of Denmark, and one more yawn before sleep. - Rex Murphy
7. "Tantalizing"
"Mr. Trudeau is tantalizing, but whether he is galvanizing is another question." - Lawrence Martin
6. "He isn't an old fart"
He isn't an old fart. The Liberal party — like the Conservatives — has been run by, and for, old farts for too long. The party is in desperate need of a new generation of leadership. Trudeau, like Barack Obama in 2008, has the greatest ability to mobilize young people to work for him, and vote for him. - Warren Kinsella
5. "Expressive mane of hair"
"You, with the expressive mane of hair and the explosive pronouncements that sometimes rival the idiocy of our other Justin, the Beeb." - Judith Timson
4. "His mane of black hair was tousled"
"Under his suit jacket, the sleeve buttons on his dress shirt were undone. His necktie was knotted, but left loose over an open top button. His mane of black hair was tousled. Even in genteel disarray, even dressed more or less like a couple hundred of his parliamentary colleagues, the 40-year-old Liberal MP for the Montreal riding of Papineau looked like a million bucks." - Paul Wells
3. "He's got more charisma than the royal family and Lady Gaga combined"
"He's got more charisma than the royal family and Lady Gaga combined. In Ottawa, which is Hollywood for ugly people, that matters. To win, political parties need some sizzle with their steak; Trudeau has sizzle in abundance. On the election hustings, when measured against Trudeau, Stephen Harper and Thomas Mulcair will look like Angry Old Guys, because, er, they are." - Warren Kinsella
2. "Impossibly handsome"
"The 41-year-old Liberal MP from the Montreal riding of Papineau, impossibly handsome, charming and much more comfortable in his skin than the bearer of such an iconic yet troublesome political name has any right to be..." - Judith Timson
1. "Lion-maned clothes horse with dimples like moon craters"
"So the rail-thin, lion-maned clothes horse with dimples like moon craters, a giant-killing right hook and a weapons-grade surname will position himself as the loyal helpmate of a post-leadership-fixation Liberal Party? It's so crazy it just might work." - Paul Wells