Jack Layton's Biography Studded With Surprising Facts (PHOTOS, VIDEO)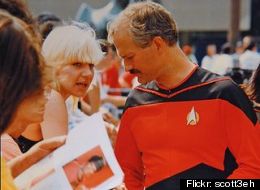 As Canada prepares to mark the one year anniversary of Jack Layton's untimely death Wednesday it seems fitting to remember some of the things that made the man so remarkable.
Unlike so many of our political leaders today, Layton was full of surprises. He was charismatic and quirky and never lost his capacity to astonish us. Reading any biography of his life is an exercise in coming to expect the unexpected.
In honour of those rare qualities, here's a look at some things about Layton's life that may surprise you still.
11 Surprising Facts About Jack Layton
As Canada prepares to remember Jack Layton on the first anniversary of his untimely death, we take a look at 11 things you may not have known about the former NDP leader.

Layton's father Robert Layton (pictured at Jack's graduation from McGill in 1971) was a Progressive Conservative MP and served as Minister of State for Mines in Brian Mulroney's cabinet from 1984-1986. Robert started out as a member of the Liberal Party, but shifted to the PCs in the 1980s. Layton's grandfather, Gilbert Layton, was a Union Nationale MNA in Quebec. The Union Nationale was a conservative party. He served as a minister in Maurice Duplessis' government before resigning in 1939 over its opposition to conscription for the Second World War.

Layton's Mother Doris Elizabeth (Steeves) was a grand-niece of a Father of Confederation, William Steeves.

Layton joined the Sigma Chi fraternity while studying at McGill. Here he is seen in a photo from his high-school years.

Layton got his PhD in political science from York University in 1983. He got his MA in political science from York and his BA from McGill.

Layton married Sally Halford, his high-school sweetheart, when he was 19. They had two children together, Mike and Sarah. The couple divorced in 1983 after 14 years of marriage.

When he first began dating Olivia Chow, her mother was not a fan. He wasn't a doctor or lawyer and he wasn't Chinese. A language mistake helped win him her approval. After having dinner at the Chow home, Layton attempted to thank his girlfriend's mother for the food. A mistake in tone led him to say "thank you for the good sex" in Cantonese, according to the Toronto Star. The exchange resulted in laughter that began a thawing of relations between Layton and Chow's family.

Layton and Chow were big fans of Star Trek, even having custom uniforms made, according to the Toronto Star.

Layton was against public financing for the building of the Skydome (now Rogers Centre) in Toronto. He later called for an inquiry into the debt that resulted from the project. Layton, then a Toronto city councillor, is seen here in 1989.

Layton fought against Toronto's bid for the 1996 Olympic Games. The bid failed. His opposition was widely viewed as contributing to his defeat in a run for the Toronto mayoralty in 1991.

During the 2008 election campaign, Layton credited torrents, a form of peer-to-peer sharing, with helping make democracy work. He also criticized the throttling used by many Internet service providers to slow peer-to-peer traffic, an issue that's still very much in the news today.

Layton lost two federal races before being elected to the House of Commons. He lost in Toronto's Rosedale riding in 1993 and in the riding of Danforth in 1997. He eventually won that Danforth seat in the 2004 general election, more than a year after becoming leader of the NDP. He would go on to lead the NDP to Official Opposition status amid the 'Orange Wave' of 2011. He died a little more than three months after the election on August 22, 2011.
(CP)

(CP)

(AP)

(AP)

(AP)

Thousands gathered outside Roy Thompson Hall in Toronto, Ontario, on August 27, 2011 to watch the broadcast of the state funeral of Canadian opposition leader Jack Layton. Layton died August 22. (GEOFF ROBINS/AFP/Getty Images)

Flowers are left in tribute for former Canadian opposition leader Jack Layton in front of the Parliament building on August 23, 2011 in Ottawa, Ontario. Canadian Prime Minister Stephen Harper said Monday he regrets that he never 'jammed' with his friend and longtime rival, opposition leader Jack Layton, who died overnight of cancer at age 61. 'Now, as you know, Jack was a musician. He was quite a natural one at that,' Harper said outside the House of Commons. Jack Layton, whose popularity and political skill helped his New Democrats surge past the Liberals to become Canada's official opposition party. Layton died August 22 of cancer. He was 61. (MICHEL COMTE/AFP/Getty Images)

The coffin containing NDP Opposition Leader Jack Layton is pictured during his state funeral in Toronto August 27, 2011. More than 2,000 people turned out Saturday, August 27, 2011 for the state funeral of Canada's former opposition chief Jack Layton, who died earlier this week of cancer -- a tribute celebrating his message of hope. Layton, whose New Democratic Party (NDP) surged past the Liberals in elections earlier this year to become Canada's official opposition, lost his battle with cancer on Monday. He was 61. (CHRIS WATTIE/AFP/Getty Images)

The coffin containing NDP Opposition Leader Jack Layton is carried away during his state funeral in Toronto August 27, 2011. More than 2,000 people turned out Saturday, August 27, 2011 for the state funeral of Canada's former opposition chief Jack Layton, who died earlier this week of cancer -- a tribute celebrating his message of hope. Layton, whose New Democratic Party (NDP) surged past the Liberals in elections earlier this year to become Canada's official opposition, lost his battle with cancer on Monday. He was 61. (CHRIS WATTIE/AFP/Getty Images)

Olivia Chow reacts during the state funeral for her husband NDP Opposition Leader Jack Layton in Toronto August 27, 2011. More than 2,000 people turned out Saturday, August 27, 2011 for the state funeral of Canada's former opposition chief Jack Layton, who died earlier this week of cancer -- a tribute celebrating his message of hope. Layton, whose New Democratic Party (NDP) surged past the Liberals in elections earlier this year to become Canada's official opposition, lost his battle with cancer on Monday. He was 61. (CHRIS WATTIE/AFP/Getty Images)

Laureen Harper wipes her eye beside her husband Prime Minister Stephen Harper during the state funeral for NDP Opposition Leader Jack Layton in Toronto August 27, 2011. More than 2,000 people turned out Saturday August 27, 2011 for the state funeral of Canada's former opposition chief Jack Layton, who died earlier this week of cancer -- a tribute celebrating his message of hope. Layton, whose New Democratic Party (NDP) surged past the Liberals in elections earlier this year to become Canada's official opposition, lost his battle with cancer on Monday. He was 61. (MIKE CASSESE/AFP/Getty Images)

Former Ontario NDP leader Stephen Lewis delivers the eulogy at the state funeral for the late New Democratic Party (NDP) leader Jack Layton at Roy Thompson Hall in Toronto, Ontario on August 27, 2011. Jack Layton, whose popularity and political skill helped his New Democrats surge past the Liberals to become Canada's official opposition earlier this year, has died at the age of 61. (Nathan Denette/AFP/Getty Images)

Olivia Chow (C) reacts during the eulogy at the state funeral for NDP Opposition Leader Jack Layton in Toronto August 27, 2011. More than 2,000 people turned out Saturday August 27, 2011 for the state funeral of Canada's former opposition chief Jack Layton, who died earlier this week of cancer -- a tribute celebrating his message of hope. Layton, whose New Democratic Party (NDP) surged past the Liberals in elections earlier this year to become Canada's official opposition, lost his battle with cancer on Monday. He was 61. (MIKE CASSESE/AFP/Getty Images)

A Police honor guard carry the coffin of Canadian opposition leader Jack Layton, following a state funeral in Toronto, Ontario on August 27, 2011. (GEOFF ROBINS/AFP/Getty Images)

(CP)

(AP)

(CP)

(AP)

(AP)

(CP)

(CP)

New Democratic Party (NDP) leader Jack Layton speaks to the media during a campaign stop in Kitchener, Ontario, March 29, 2011. Canadians will be heading to the polls May 2. (GEOFF ROBINS/AFP/Getty Images)

New Democratic Party (NDP) leader Jack Layton speaks to the media during a campaign stop in Kitchener, Ontario, March 29, 2011. Canadians will be heading to the polls May 2. (GEOFF ROBINS/AFP/Getty Images)

New Democratic Party (NDP) leader Jack Layton speaks to the media during a campaign event in Brantford, Ontario, March 29, 2011. Layton announced his plan to limit credit card fees for consumers and small businesses. Canadians will be heading to the polls on May 2. (GEOFF ROBINS/AFP/Getty Images)

New Democratic Party (NDP) leader Jack Layton speaks at the NDP's campaign kickoff event at the Chateau Laurier in Ottawa, Canada, on March 26, 2011 one day after the fall of the Conservative government. Canada's governor general dissolved parliament on Saturday after a vote of no-confidence in Tory Prime Minister Stephen Harper's government, setting up a fourth election in seven years. Canadians will be heading to the polls May 2. (GEOFF ROBINS/AFP/Getty Images)

The federal party leaders (L-R) Jack Layton, New Democrats; Prime Minister Stephen Harper, Conservatives; Gilles Duceppe, Bloc Quebecois; Elizabeth May, Green Party; and Liberal leader Stephane pose for photographs before the French language debate at the National Arts Centre in Ottawa, Ontario, October 1, 2008. Canadians are set to go to the polls in a national election October 14, 2008. (GEOFF ROBINS/AFP/Getty Images)