NET-A-PORTER's Holli Rogers Shows Us How To Wear Fall's Fashion Trends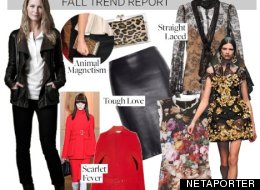 One of our guilty pleasures is to scour NET-A-PORTER for new and fashionable items to buy on the fly. Because, let's face it, the site is one of the top online retailers in the world -- and the items it showcases are second-to-none.
So when we were offered a chance to chat with Holli Rogers, fashion director of the sartorially smart site, we jumped (in heels!) at the opportunity. From leather and lace to baroque embellishments and animal print, Rogers says fall 2012 has a lot going on -- and plenty of stylish looks to try out.
The only problem is some of these statements can be hard to pull off (what, exactly, does baroque look like?). Which is why we asked Rogers for her thoughts on what will be big for fall -- there are five fashion stand-outs you need to pay attention to.
With a little help from POLYVORE, here's her fall fashion trend report.
NET-A-PORTER's Holli Rogers' Fall Fashion Trends
"Red is this season's hottest color with designers from Milan to Paris sending the show-stopping hue down the runway in the form of dresses, jackets and everything in between. I adore Giambattista Valli's ladylike red gown, especially if you want to make an entrance. If you aren't ready for a head-to-toe look in the bold shade, go for a crimson accessory to add some pop to your outfit."

"Dark romance and drama are key buzzwords this fall, and there is no better way to introduce them into your wardrobe than by combining them with another big trend of the season, leather. Be it patent, paper-thin, woven or combined with lace, there are dozens of ways to experiment with the tactile material and give your closet that extra edge."

"What I love about lace this season is that it is both daring and demure. Lace skirts and tops in pastel hues, such as baby blue or lavender, can create very charming day outfits that show your feminine sensibility. For a more sultry statement, I would go for a fine lace dress in red or black that gives off a lingerie vibe without being overly exposed."

"In neutral hues of brown, beige and black, animal print has become an ultimate wardrobe must-have. A cheetah print clutch is a great way to add some punch to your little black dress or keep it casual with a pair of printed pants and a black cashmere sweater."

"The runways have never looked more lavish than they do this season, with intricate lace, velvet and brocade patterns giving opulent dressing a whole new meaning. I am a huge fan of the gilded details we saw from designers such as Dolce & Gabbana and Marni, who turned up the drama with their Renaissance-inspired prints and embellished ensembles."