Emperor Penguin Panorama: British Engineer Oliver Bonner Takes Awesome Photo Of Wintering Penguins In Antarctica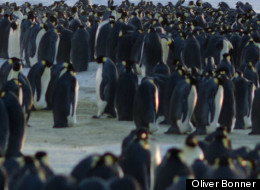 What does a colony of wintering Emperor Penguins look like? British engineer Oliver Bonner, who is wintering in Antarctica with the Halley Research Station, snapped and stitched together this dramatic panorama of emperor penguins in Windy Bay, Antarctica.
"The emperor penguin colony at Windy Bay is one of the main breeding sites in Antarctica. Each year, several thousand birds gather here to breed and give birth to the penguin chicks in early August. This panorama was taken on Friday 24th August 2012 during a visit to the colony from Halley VI Research Station by some of the Wintering team. Seven members of the 14 strong team, abseiled onto the sea ice in temperatures of -25C and winds of ~10 knots. The penguins are extraordinarily inquisitive and seemed entirely un-phased by our appearance!," Bonner wrote in his description.
He's also tweeting his time in Antarctica including plenty of photos of our tuxedoed friends. See some of his tweets below: