Santa Quits Smoking: 'Twas The Night Before Christmas' Loses References To Santa Smoking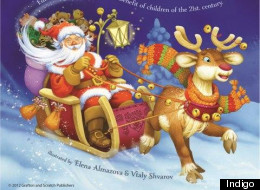 We're not blowing smoke -- Santa has quit his nasty habit.
Well, at least he has in a new version of Clement C. Moore's "Twas the Night Before Christmas." It features no mention of Santa smoking; it's been "edited by Santa Claus for the benefit of children of the 21st century." Vancouver's Grafton and Scratch released it earlier in September, and Indigo recently picked it up, according to CBC. Anti-smoking advocate Pamela McColl modified the work in the hopes it will prevent young readers from picking up the habit.
"Exposure to the depiction of Santa smoking a pipe cannot be good," McColl told the Toronto Sun.
The new version isn't without its critics. Some believe the change violates the original work, like University of Alberta's adjunct assistant professor storyteller and consultant Gail de Vos.
"Although it's now in the public domain, there's something disturbing about modifying a classic… What about those children who never get to hear the real thing? What if they become an adult and find out Santa used to be a smoker?" she explained to the National Post.
The new book glosses over the change in a letter from Santa himself, as stated on Indigo's website.
"Here at the North Pole, we decided to leave all of that tired old business of smoking well behind us a long time ago. The reindeer also asked that I confirm that I have only ever worn faux fur out of respect for the endangered species that are in need of our protection."
Do you think the new version is appropriate?