22 Minutes Mocks Rob Ford's Geography (VIDEO)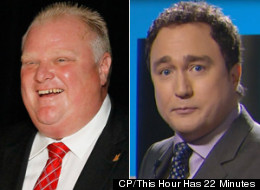 22 Minutes is joining the widespread mockery of Toronto Mayor Rob Ford for confusing Winnipeg and Windsor on a trip to Chicago last week.
On Tuesday night's episode, cast member Mark Critch shows us how a map of North America looks to Ford. Let's just say poutine, NFL football and Ford Nation are involved in the cartography.
Ford, and his brother Councillor Doug Ford, have been giving satirists plenty of material to work with over the past few weeks.
Toronto's mayor has been under fire for allegedly using city resources to help run a football team he coaches and for reportedly making sure the road in front of his family's business was repaired ahead of schedule.
On Sunday, the Brothers Ford lashed out against the media on their radio show. On Monday, Councillor Ford referred to the media as "pricks."
Perhaps, Marg Delahunty should pay Councillor Ford a visit.
Last year, Mayor Ford called the police after 22 Minutes contributor Mary Walsh showed up at his house for an unscheduled interview dressed as her alter ego, warrior princess Marg Delahunty.
We think she would have a good time with Doug as well.
This Hour Has 22 Minutes airs on CBC TV Tuesday nights at 8:30 p.m. Catch more clips of the show on Facebook and Twitter.