William Shatner Gives Trudeau Some Acting Tips On 22 Minutes (VIDEO)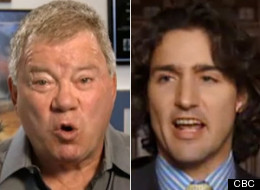 William Shatner may be known for his over-dramatic delivery, but he's got nothing on Justin Trudeau.
The "Star Trek" legend appeared on "This Hour Has 22 Minutes" Tuesday night and gave Canada's heir apparent some tips on toning it down.
The material? Trudeau's infamous third-person rant regarding his comments suggesting he would support separatism under certain circumstances. You can see the entire performance below.
STORY CONTINUES BELOW VIDEO
Shatner's hints? Try the throwaway or the bombastic approach, but never both at the same time.
Canada's favourite captain demonstrated the techniques for Trudeau's edification. Were his renditions better than Trudeau's version? Share your thoughts in the comments below.
Justin Trudeau's Unconventional Style
"What's up!?" Credit: CP

He looks sexy in that uniform, but what is with that moustache!? Credit: CBC

Nice sweater. However, we'd like to call attention to Trudeau's blue shirt. Credit: Althia Raj, The Huffington Post Canada

"I like to box!" Credit: CBC

One of the weirdest publicity stunts ever to be performed on Parliament Hill. Even Trudeau finds it funny. Credit: CP

Seriously!? Credit: CP

Blue shirt appearance number two. Credit: CP

We're not going to knock a guy on his wedding day. Credit: CP

Keeping it classy by performing a striptease. See the full video here. Credit: Althia Raj, The Huffington Post Canada

Trudeau was not having a good hair day in this picture. Credit: CP

*Dreamy!* Credit: CP

Pairing fall's two "it" colours (black and white) together. Smart sartorial decision one. Credit: CP

Okay... Credit: CP

No! Just. No. Credit: Althia Raj, The Huffington Post Canada

Blue shirt appearance number three. Credit: CP

Seriously. This moustache is killing us to look at. (Also, blue shirt appearance number four.) Credit: CP

Cheese. Credit: Media Ball

It is not okay for an MP or a Senator to wear this. Ever. Credit: CP

The weigh-in. Credit: CP

A possible future Prime Minister, folks. Credit: CP

Trudeau celebrates! Credit: CP

Again with the bad hair day! Credit: CP

There are no words. The hair. The moustache. The poorly tied tie. Why, Justin? Why!? Credit: CP

Blue shirt appearance number five. You bored yet? Credit: CP

Adorbs! Credit: CP

Blue shirt appearance number six. We're starting to wonder if this is the only shade he has in his wardrobe. Credit: CP

Holy flying fur! Credit: CP

Really? And you may run to be Canada's next Prime Minister? Credit: Media Handout

This is the Justin Trudeau hair we like. Credit: CP

Yay! Blue shirt appearance number seven. (That cowboy hat is appropriate, and a sartorially smart decision for the Stampede. Well done.) Credit: CP

Keeping it casual. Though, Justin, we suggest you get someone to tailor your jeans (they're far too big). Credit: CP

And, for the grand finale: blue shirt appearance number eight. You're welcome. Credit: CP