Justin Trudeau On 22 Minutes: MP Reveals Wife's Boxing Fears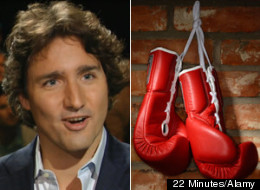 "This Hour Has 22 Minutes" has been giving Justin Trudeau a pretty hard time over the past few weeks.
'Rex Murphy' compared him to Simba, his leadership speech got auto-tuned and William Shatner gave him some stern acting tips. But it seems Trudeau is being a good sport, as he sat down for an interview with comedian Mark Critch for this week's episode.
During the sit-down, Trudeau revealed that while his wife didn't lose money on his boxing match, she was concerned he might lose to Conservative Senator Patrick Brazeau. If his wily smile is any indication, Trudeau had few such doubts about himself.
This Hour Has 22 Minutes airs on CBC TV Tuesday nights at 8:30 p.m. Catch more clips of the show on Facebook and Twitter.