Magic Johnson: Mitt Romney And Republicans Will Make Life Worse For The Poor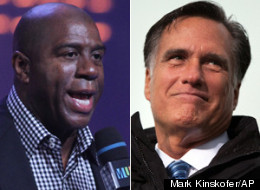 Magic Johnson may fit the Republican definition of a "job creator," in that the former basketball star and current businessman and philanthropist is wildly wealthy. But don't think his one per cent status means Johnson is hoping for a Romney administration.
"I have big concerns," Johnson said backstage at Free The Children's We Day youth rally in Vancouver last Thursday. "First of all, the poor to middle class, they're going to be affected. It's already tough for them now. Just think about what's going to happen if Romney gets in."
This is a major issue for Johnson, whose Magic Johnson Foundation celebrated its 20th anniversary in 2011 and has helped more than 250,000 "economically challenged" people each year through scholarships, grants, HIV/AIDS education and community empowerment centres.
"They're trying to get rid of welfare," he said of the Republicans. "Things are going to change. If you're poor in America today and Romney gets in, you might as well not even be in America, it's going to be so bad. If you think it's bad now, it's going to get even worse. That's why we're encouraging people to get out and vote, to use that powerful tool."
STORY CONTINUES BELOW SLIDESHOW
We Day Stars Vancouver 2012
Archbishop Desmond Tutu, a central figure in ending apartheid in South Africa, high fives a girl in Vancouver.

Archbishop Desmond Tutu laughs while being interviewed by Josh Ostoff, music editor for The Huffington Post Canada.

Christy Clark speaks at We Day Vancouver 2012.

B.C. Premier Christy Clark speaks at We Day Vancouver 2012.

Miss Teen World Canada 2012 speaks at We Day Vancouver 2012.

Miss Teen World Canada 2012 speaks at We Day in Vancouver.

How some youth in the audience are experiencing We Day Vancouver 2012.

The Vancouver mayor speaks at We Day Vancouver 2012.

Vancouver's mayor speaks at We Day Vancouver 2012.

Two We Day hosts lead a crowd of thousands in a dance.

We Day Vancouver 2012 host Jesse Giddings.

Marc and Craig Kielburger are the founders of Free The Children.

Craig Kielbuger is a co-founder of Free The Children.

Vancouver Canucks COO Victor De Bonis speaks at We Day 2012.
A long-time Democrat, Johnson initially supported Hillary Clinton in the primaries before the last election, perhaps owing to his long relationship with Bill Clinton. Johnson even warned in 2007 that "you don't want somebody in there that is young or a rookie at politics." Now, he says President Barak Obama is doing his best in a bad situation.
"One thing you can say about President Obama, he does care about the poor and the middle class. He's backing that up with all his initiatives. It's not just talk, it's action, too."
That includes Obama's efforts in HIV/AIDS, which has been Johnson's most well-known area of advocacy since he announced his own HIV-positive status back in 1991.
"President Obama has done some good. Has any president done enough? No. We would love to have more funding, we would love to have the White House do more than they're doing. But I will say this, if you take President Clinton and President Obama, they've done more than any other administration we've ever had to deal with."
Johnson noted that he has been to both the White House and the Centers for Disease Control and Prevention during Obama's term to discuss the issue. "Do we have a long way still to go? Yes, but this administration has brought all the leaders in to talk about what more they can do."
Johnson's fears about how a potential Romney administration would treat the HIV/AIDs communities dovetail with his worries about the inner city, pointing out 50 per cent of new HIV cases are among African-Americans and Latinos.
"So yes, it would affect us big time. I am concerned. We're probably going back to the Bush days.
"It's not going to be good for the poor, especially minorities, and the HIV and AIDS fighters. Under President Bush, funding went all the way down — remember, he sent more money to Africa than he gave us, and that devastated the HIV and AIDS community — so we'd look for similar things."