Sue-Ann Levy Tweet Suggests Obama Might Be Muslim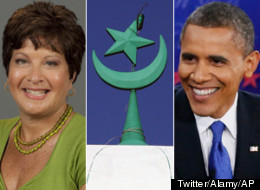 Toronto Sun columnist Sue-Ann Levy took to Twitter during Monday night's presidential debate to suggest Barack Obama just might be a Muslim.
Levy — described on her Sun profile as "feisty and outspoken" — tweeted: "Obama says he 'will stand' with Israel if attacked and they are a 'true friend.' His nose is growing again. #MuslimBS."
UPDATE: The Toronto Sun distanced itself from Levy's "inappropriate" tweet on Tuesday afternoon via a post on the newspaper's Twitter account.
The inclusion of the "#MuslimBS" hastag in her debate post immediately prompted a flurry of tweets from journalists and other users asking Levy to clarify if she was really suggesting Obama is Muslim. You can see some of the most interesting exchanges in the slideshow below.
STORY CONTINUES BELOW SLIDESHOW
Levy would not say outright that she thinks Obama, who is Christian, is a secret follower of Islam. Instead, she suggested critics check out "clips on YouTube from CNN" to get "another side to the story" and that "there are still unanswered questions on Obama."
Levy joins a number of other prominent figures who have suggested Obama is not being truthful about his religious beliefs, including Donald Trump, Hank Williams Jr. and a number of Fox News contributors.
A poll in May found roughly one in six American voters believe Obama is Muslim and that only one quarter of voters could identify him as being Protestant.
CORRECTION: An earlier version of this story spelled Sue-Ann Levy's name incorrectly as Sue-Anne Levy.