The perfect time to offer a sale to customers is, of course, in the middle of a hurricane, right?
Late Monday night, as much of the eastern U.S. seaboard was being pelted by the winds, rain and waves of Hurricane Sandy, several retailers were sending eblasts to their customers to let them know they were holding inclement weather sales. The most prominent notice came from American Apparel. The ad, which featured the verbiage, "In case you're bored in the storm, 20% off everything for the next 36 hours," was reportedly sent to fans of the retailer in the exact states where Hurricane Sandy was set to do the most damage -- New Jersey and New York (among others).
Notice of the sale drew the ire of many a Twitterer, including @MikeFerri who said, "American Apparel is pathetic." Not to be outdone, @buzzbishop said, "@americanapparel will soon be hiring a new marketing director. Yes, they just email blasted a 'Hurricane Sandy Sale.'"
But it wasn't just American Apparel who posted a "Hurricane Sandy" deal on their website. Complex.com has a list of "11 Hurricane Sales Worth Taking Advantage Of." Discounts of note involve Asos, Club Monaco and Levi's.
This isn't the first time American Apparel has come under fire for a marketing campaign. Some of the company's ads have been banned in the U.K. for being too exploitive and provocative while others have been criticized for being overly Photoshopped.
Take a look at the eblast that was sent to U.S. American Apparel customers and let us know what you think: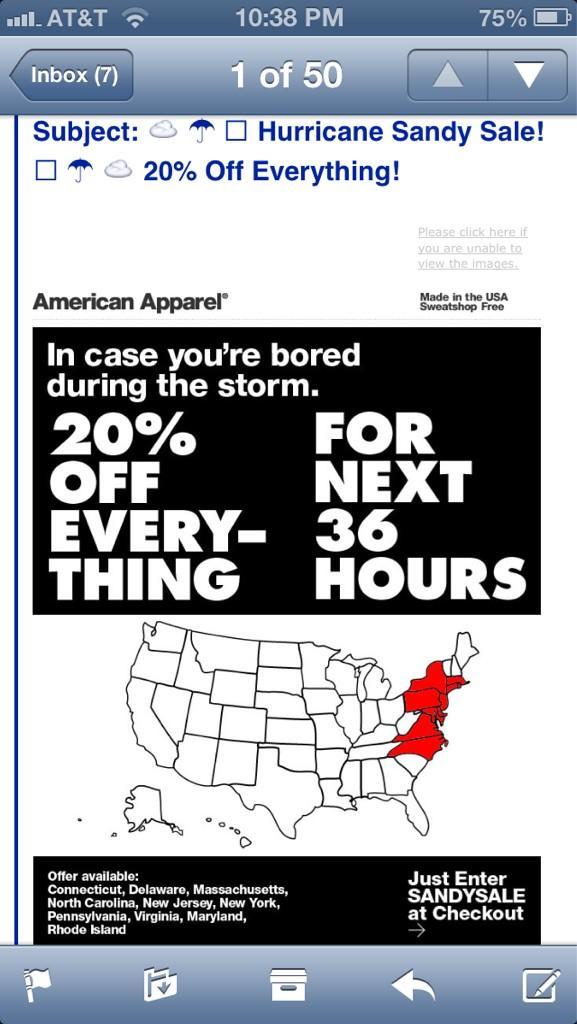 Here's some of the Twitter reaction to the sale.
Loading Slideshow
MikeFerri

American Apparel is pathetic. http://t.co/o8MK4ZXZ

Angus Johnston

American Apparel is publicizing its hurricane Sandy sale. Just in case you wanted to burn their stores to the ground.

Brian Clark

An American Apparel Hurricane Sandy Sale? Which 22-year-old genius intern came up with this one?

birdie ♥

Email I just got, really American Apparel!! 😒 http://t.co/r05hkVtm

Deborahhh.

American Apparel is disgusting. They are having an online sale in dedication to Hurricane Sandy. 😒, smh.

Pamela J. Stubbart

@Jamila203 well, I guess we can thank American Apparel's deficient PR dept for bringing us together. that, and @stefanjbecket. #silverlining

eru baratheon

@patragem it's American apparel I'm actually not that surprised.

Tara H

@Jerrellephant American Apparel, along with other retail stores, is using the storm as a way to solicit additional revenue!

RATED ®

American Apparel super petty for this Hurricane Sandy Sale tho

Steph Lobes

Is American Apparel seriously having a Hurricane Sandy Sale?

Jessica Gares

Marketing #FAIL! RT @JohannaBarr American Apparel, are you KIDDING me with this #Sandy http://t.co/x26cU7NS

your mother.

people! american apparel has a hurricane sandy sale. 20% off everything dawgggggg!
Loading Slideshow
Sign kills Toronto woman

Repair crews struggle with a sign in inclement weather after strong storm winds caused a piece of a sign to fall, killing one, in Toronto on Oct. 29, 2012. Police said a woman had been killed by a falling sign as strong winds whipped the city.

Staples sign kills Toronto woman

Toronto Police sit at a taped off Staples outlet parking lot after strong storm winds caused a piece of a sign to fall, killing one, in Toronto on Oct. 29.

Sign kills woman in Toronto

Police said a woman had been killed by a falling sign as strong winds whipped the city. A spokesman said witnesses reported the woman was struck while walking through a parking lot as winds gusted around 65 km / h.

Sign kills woman in Toronto

Repair crews struggle with a sign in inclement weather after strong storm winds caused a piece of a sign to fall, killing one, in Toronto on Oct. 29, 2012. Police said a woman had been killed by a falling sign as strong winds whipped the city.

Lower Manhattan goes dark during the hybrid storm Sandy, on Monday, Oct. 29, 2012, viewed from the Brooklyn borough of New York. Authorities warned that New York City and Long Island could get the worst of the storm surge: an 11-foot onslaught of seawater that could swamp lower areas of the city. (AP Photo/Bebeto Matthews)

Lower Manhattan goes dark during hurricane Sandy, on Monday, Oct. 29, 2012, as seen from Brooklyn, N.Y. Sandy continued on its path Monday, as the storm forced the shutdown of mass transit, schools and financial markets, sending coastal residents fleeing, and threatening a dangerous mix of high winds and soaking rain. (AP Photo/Bebeto Matthews)

Vehicles are submerged during a storm surge near the Brooklyn Battery Tunnel, Monday, Oct. 29, 2012, in New York. Superstorm Sandy zeroed in on New York's waterfront with fierce rain and winds that shuttered most of the nation's largest city Monday, darkened the financial district and left a huge crane hanging off a luxury high-rise. (AP Photo/ John Minchillo)

Sea water floods the Ground Zero construction site, Monday, Oct. 29, 2012, in New York. Sandy continued on its path Monday, as the storm forced the shutdown of mass transit, schools and financial markets, sending coastal residents fleeing, and threatening a dangerous mix of high winds and soaking rain.  (AP Photo/ John Minchillo)

Streets around a Con Edison substation are flooded as the East River overflows into the Dumbo section of Brooklyn, N.Y., as Sandy moves through the area on Monday, Oct. 29, 2012. Superstorm Sandy zeroed in on New York's waterfront with fierce rain and winds that shuttered most of the nation's largest city Monday, darkened the financial district and left a huge crane hanging off a luxury high-rise. (AP Photo/Bebeto Matthews)

Sea water floods the entrance to the Brooklyn Battery Tunnel, Monday, Oct. 29, 2012, in New York. Sandy continued on its path Monday, as the storm forced the shutdown of mass transit, schools and financial markets, sending coastal residents fleeing, and threatening a dangerous mix of high winds and soaking rain.  (AP Photo/ John Minchillo)

Vehicles are submerged during a storm surge near the Brooklyn Battery Tunnel, Monday, Oct. 29, 2012, in New York. Superstorm Sandy zeroed in on New York's waterfront with fierce rain and winds that shuttered most of the nation's largest city Monday, darkened the financial district and left a huge crane hanging off a luxury high-rise. (AP Photo/John Minchillo)

Streets are flooded under the Manhattan Bridge in the Dumbo section of Brooklyn, N.Y., Monday, Oct. 29, 2012. Sandy continued on its path Monday, as the storm forced the shutdown of mass transit, schools and financial markets, sending coastal residents fleeing, and threatening a dangerous mix of high winds and soaking rain. (AP Photo/Bebeto Matthews)

Sea water floods the entrance to the Brooklyn Battery Tunnel, Monday, Oct. 29, 2012, in New York. Sandy continued on its path Monday, as the storm forced the shutdown of mass transit, schools and financial markets, sending coastal residents fleeing, and threatening a dangerous mix of high winds and soaking rain.  (AP Photo/ John Minchillo)

Sea water floods the entrance to the Brooklyn Battery Tunnel, Monday, Oct. 29, 2012, in New York. Sandy continued on its path Monday, as the storm forced the shutdown of mass transit, schools and financial markets, sending coastal residents fleeing, and threatening a dangerous mix of high winds and soaking rain.  (AP Photo/ John Minchillo)

Manhattan

Lower Manhattan goes dark during superstorm Sandy, on Monday, Oct. 29, 2012, as seen from the Brooklyn Heights promenade in the Brooklyn borough of New York. One World Trade Center, background center, remains brightly lit. Sandy continued on its path Monday, as the storm forced the shutdown of mass transit, schools and financial markets, sending coastal residents fleeing, and threatening a dangerous mix of high winds and soaking rain.  (AP Photo/Bebeto Matthews)

This photo provided by 6abc Action News shows the Inlet section of Atlantic City, N.J., as Hurricane Sandy makes it approach, Monday Oct. 29, 2012. Sandy made landfall at 8 p.m. near Atlantic City, which was already mostly under water and saw a piece of its world-famous Boardwalk washed away earlier in the day. (AP Photo/6abc Action News, Dann Cuellar)

The New York skyline remains dark Monday, Oct. 29, 2012, as seen from the Williamsburg neighborhood in the Brooklyn borough of New York. In an attempt to lessen damage from saltwater to the subway system and the electrical network beneath the city's financial district, New York City's main utility cut power to about 6,500 customers in lower Manhattan. But a far wider swath of the city was hit with blackouts caused by flooding and transformer explosions. (AP Photo/Frank Franklin II)

FDNY inflatable boats travel along 14th street towards the East River on a rescue mission in the wake of Hurricane Sandy, Monday, Oct. 29, 2012, in New York. Sandy continued on its path Monday, as the storm forced the shutdown of mass transit, schools and financial markets, sending coastal residents fleeing, and threatening a dangerous mix of high winds and soaking rain. (AP Photo/ Louis Lanzano)

Lights from a NYPD police vehicle illuminate a downed tree on 6th Avenue, Monday, Oct. 29, 2012, in New York. Sandy continued on its path Monday, as the storm forced the shutdown of mass transit, schools and financial markets, sending coastal residents fleeing, and threatening a dangerous mix of high winds and soaking rain. (AP Photo/ John Minchillo)

Firefighters look up at the facade of a four-story building on 14th Street and 8th Avenue that collapsed onto the sidewalk Monday, Oct. 29, 2012, in New York. Hurricane Sandy bore down on the Eastern Seaboard's largest cities Monday, forcing the shutdown of mass transit, schools and financial markets, sending coastal residents fleeing, and threatening a dangerous mix of high winds, soaking rain and a surging wall of water up to 11 feet tall. (AP Photo/ John Minchillo)

A vehicle is submerged on 14th Street near the Consolidated Edison power plant, Monday, Oct. 29, 2012, in New York. Sandy knocked out power to at least 3.1 million people, and New York's main utility said large sections of Manhattan had been plunged into darkness by the storm, with 250,000 customers without power as water pressed into the island from three sides, flooding rail yards, subway tracks, tunnels and roads. (AP Photo/ John Minchillo)

This photo provided by Dylan Patrick shows flooding along the Westside Highway near the USS Intrepid, background center, as Sandy moves through the area Monday, Oct. 29, 2012 in New York. Much of New York was plunged into darkness Monday by a superstorm that overflowed the city's historic waterfront, flooded the financial district and subway tunnels and cut power to nearly a million people. (AP Photo/Dylan Patrick) MANDATORY CREDIT: DYLAN PATRICK

This image from video provided by Dani Hart shows what appears to be a transformer exploding in lower Manhattan as seen from a building rooftop from the Navy Yard in Brooklyn during Sandy's arrival in New York City. Much of New York was plunged into darkness Monday by a superstorm that overflowed the city's historic waterfront, flooded the financial district and subway tunnels and cut power to nearly a million people. (AP Photo/Dani Hart)

This photo provided by Dylan Patrick shows flooding along the Westside Highway near the USS Intrepid as Sandy moves through the area Monday, Oct. 29, 2012 in New York. Much of New York was plunged into darkness Monday by a superstorm that overflowed the city's historic waterfront, flooded the financial district and subway tunnels and cut power to nearly a million people. (AP Photo/Dylan Patrick) MANDATORY CREDIT: DYLAN PATRICK

This photo provided by Dylan Patrick shows flooding along the Westside Highway as Sandy moves through the area Monday, Oct. 29, 2012 in New York. Much of New York was plunged into darkness Monday by a superstorm that overflowed the city's historic waterfront, flooded the financial district and subway tunnels and cut power to nearly a million people. (AP Photo/Dylan Patrick) MANDATORY CREDIT: DYLAN PATRICK

Lower Manhattan Goes Dark

Lower Manhattan goes dark during superstorm Sandy, on Monday, Oct. 29, 2012, as seen from the Brooklyn Heights promenade in the Brooklyn borough of New York. One World Trade Center, background center, remains brightly lit. Sandy continued on its path Monday, as the storm forced the shutdown of mass transit, schools and financial markets, sending coastal residents fleeing, and threatening a dangerous mix of high winds and soaking rain.  (AP Photo/Bebeto Matthews)

Ground Zero Floods

Sea water floods the Ground Zero construction site, Monday, Oct. 29, 2012, in New York. Sandy continued on its path Monday, as the storm forced the shutdown of mass transit, schools and financial markets, sending coastal residents fleeing, and threatening a dangerous mix of high winds and soaking rain.  (AP Photo/ John Minchillo)

Brooklyn

People brace against a gust from Hurricane Sandy in Brooklyn's Dumbo neighborhood Monday, Oct. 29, 2012, in New York. Residents of the neighborhood were ordered to evacuate because of the storm surge expected from the hurricane. Authorities warned that New York City and Long Island could get the worst of the storm surge: an 11-foot onslaught of seawater that could swamp lower areas of the city.

West New York, N.J.

Wind-blown mist from the Hudson River along with driving rain in West New York, N.J. fills the air Monday, Oct. 29, 2012 as Hurricane Sandy lashed the East Coast. The Manhattan borough of New York is in the background.

Crane in New York City

Lindenhurst, N.Y.

People wade and paddle down a flooded street as Hurricane Sandy approaches, Monday, Oct. 29, 2012, in Lindenhurst, N.Y. Gaining speed and power through the day, the storm knocked out electricity to more than 1 million people and figured to upend life for tens of millions more.

Scituate, Mass

A dog looks out from an open window as its owner takes pictures from a car parked near the seawall in Scituate, Mass. Monday, Oct. 29, 2012. Hurricane Sandy continued on its path Monday, as the storm forced the shutdown of mass transit, schools and financial markets, sending coastal residents fleeing, and threatening a dangerous mix of high winds and soaking rain.

The number 1 subway train station is blocked by sandbags at Battery Park in New York Monday, Oct. 29, 2012, in preparation for a possible storm surge as Hurricane Sandy approaches the East Coast. Hurricane Sandy continued on its path Monday, forcing the shutdown of mass transit, schools and financial markets, sending coastal residents fleeing, and threatening a dangerous mix of high winds and soaking rain. (AP Photo/Craig Ruttle)

Cape May, N.J.

Rough surf of the Atlantic Ocean breaks over the beach and across Beach Ave., Monday morning, Oct. 29, 2012, in Cape May, N.J., as high tide and Hurricane Sandy begin to arrive. Hurricane Sandy continued on its path Monday, forcing the shutdown of mass transit, schools and financial markets, sending coastal residents fleeing, and threatening a dangerous mix of high winds and soaking rain. (Mel Evans, AP)

Waves wash over the seawall near high tide at Battery Park in New York, Monday, Oct. 29, 2012, as Hurricane Sandy approaches the East Coast. (AP Photo/Craig Ruttle)

In Baltimore's Fells Point waterfront neighborhood, some streets near the harbor, normally filled with the cars of residents and visitors, are deserted Monday morning, Oct. 29, 2012 as city officials ordered cars to be moved from low-lying areas. Hurricane Sandy continued on its path Monday, forcing the shutdown of mass transit, schools and financial markets, sending coastal residents fleeing, and threatening a dangerous mix of high winds and soaking rain. (AP Photo/Alex Dominguez)

Brandon White

Brandon White of Watermark, a tour and charter boat company, ties one of the company's boats to a pier in Annapolis, Md. as Hurricane Sandy approaches the East Coast Monday, Oct. 29, 2012. Hurricane Sandy continued on its path Monday, forcing the shutdown of mass transit, schools and financial markets, sending coastal residents fleeing, and threatening a dangerous mix of high winds and soaking rain. (AP Photo/Steve Ruark)