Hurricane Sandy: American Apparel Offers Ill-Timed Sale
The perfect time to offer a sale to customers is, of course, in the middle of a hurricane, right?
Late Monday night, as much of the eastern U.S. seaboard was being pelted by the winds, rain and waves of Hurricane Sandy, several retailers were sending eblasts to their customers to let them know they were holding inclement weather sales. The most prominent notice came from American Apparel. The ad, which featured the verbiage, "In case you're bored in the storm, 20% off everything for the next 36 hours," was reportedly sent to fans of the retailer in the exact states where Hurricane Sandy was set to do the most damage -- New Jersey and New York (among others).
Notice of the sale drew the ire of many a Twitterer, including @MikeFerri who said, "American Apparel is pathetic." Not to be outdone, @buzzbishop said, "@americanapparel will soon be hiring a new marketing director. Yes, they just email blasted a 'Hurricane Sandy Sale.'"
But it wasn't just American Apparel who posted a "Hurricane Sandy" deal on their website. Complex.com has a list of "11 Hurricane Sales Worth Taking Advantage Of." Discounts of note involve Asos, Club Monaco and Levi's.
This isn't the first time American Apparel has come under fire for a marketing campaign. Some of the company's ads have been banned in the U.K. for being too exploitive and provocative while others have been criticized for being overly Photoshopped.
Take a look at the eblast that was sent to U.S. American Apparel customers and let us know what you think: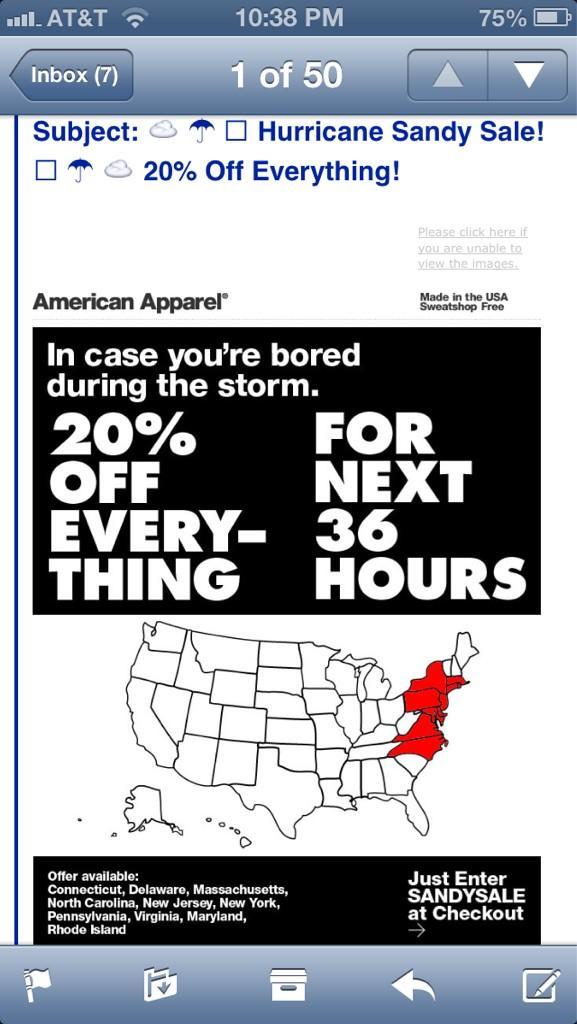 Here's some of the Twitter reaction to the sale.
Backlash against American Apparel
American Apparel is pathetic. http://t.co/o8MK4ZXZ

American Apparel is publicizing its hurricane Sandy sale. Just in case you wanted to burn their stores to the ground.

An American Apparel Hurricane Sandy Sale? Which 22-year-old genius intern came up with this one?

Email I just got, really American Apparel!! 😒 http://t.co/r05hkVtm

American Apparel is disgusting. They are having an online sale in dedication to Hurricane Sandy. 😒, smh.

@Jamila203 well, I guess we can thank American Apparel's deficient PR dept for bringing us together. that, and @stefanjbecket. #silverlining

@patragem it's American apparel I'm actually not that surprised.

@Jerrellephant American Apparel, along with other retail stores, is using the storm as a way to solicit additional revenue!

American Apparel super petty for this Hurricane Sandy Sale tho

Is American Apparel seriously having a Hurricane Sandy Sale?

Marketing #FAIL! RT @JohannaBarr American Apparel, are you KIDDING me with this #Sandy http://t.co/x26cU7NS

people! american apparel has a hurricane sandy sale. 20% off everything dawgggggg!