Jai Cunningham Shaves Head: Hawaii News Anchor Takes Stand Against Domestic Violence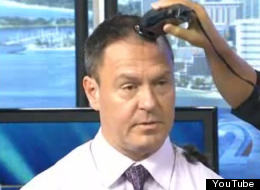 It's one thing to talk about an issue, but it's another thing to actually do something about it.
On Wednesday, Hawaii television station KHON2 anchor Jai Cunningham vowed to do an incredibly brave thing: He would shave his head every time a woman or child died from domestic violence over the next year.
The anchor was driven to raise awareness after his friend Heather Rosa of California was a recent alleged victim of domestic abuse.
"In the past I've talked about domestic violence and how it transcends race, age, all things. I didn't know what to do and I've talked a number of times, I've walked a number of times. This morning I hope to shock you," he said in a YouTube video that now has over 150,000 views.
On-air, Cunningham called in a co-worker who shaved his head while he talked about the reality of domestic violence and how in his own life, he and his brother, as well as their mother, were all victims of domestic abuse.
"Unfortunately I am going to probably do this 6 to 8 times. I want this to serve as a reminder that domestic violence is real, it happens everyday and it happens to people like Heather Rosa," he said.
Cunningham also hopes that readers will join his cause and also take part in his protest, according to MSN Australia.
And whether it's taking a stand for something they believe in — or taking a stand for themselves, TV anchors have a powerful stage to raise awareness and reach a massive audience. Last month, TODAY host Natalie Morales took a stand to raise awareness of the horrific attack on 14-year-old Malala Yousufzai in Pakistan by joining Plan International for their first ever International Day of the Girl, according to TODAY News. On the other end of this, local news anchor Jennifer Livingston stood up against her own viewers after one wrote in calling her "unhealthy" and "fat" in October.

Cunningham after his first shave:

ALSO: Check out these posters by Sharon Su and Canada's very own SlutWalk that bring attention to victim blaming and gender equality: