Green Christmas: How To Make Your Christmas Tree More Eco-Friendly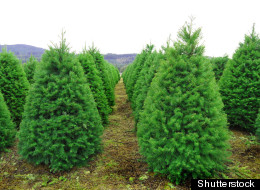 Okay lumberjacks, before you bring out the axe and chop down your own tree, there are a few things one needs to know about keeping your tree green — in every possible way.
On this week's How To, Gardenfork teaches us the benefits of choosing a "real" tree and how to safely find one.
The video advises readers to avoid artificial trees, because they're not recyclable and can also be made from harmful plastics.
But why go green? Buying or chopping your own tree from local farms won't damage any eco-systems, contrary to the popular myth. Tree farms, like any farm, are meant to produce trees for chopping and personal use. Buying local also helps support local businesses, the video adds.
In provinces like Alberta, for example, a temporary permit is needed for chopping your own tree, according to the Environmental and Sustainable Resource Develop group in Alberta. In other communities like Northern Ontario, permits aren't required if you are planning to cut a tree for yourself — only if you plan on selling them, according to NetNewsLedger.com.
And before you embark on your tree shopping journey, remember to measure your space (bring a measuring tape with you to be safe) and make sure you have a general idea of how big you want the tree to be, according to CalgarySecrets.com.
ALSO: Some of the biggest Christmas trees from our neighbours down south:
The grand and historic Biltmore Estate in Asheville, NC, is the largest home in the United States and has been celebrating Christmas since 1895. For those who are looking for a classic Christmas tree, look no further, the gilded 35 foot Fraser fir in the grand ballroom here is part of a Nutcracker worthy scene of elegance with music in the background and miles of wreaths, swags, and holiday ornaments.

The saying, it seems, is true: Everything is bigger in Texas, including Galleria Dallas' 95 foot tree, the biggest indoor tree in the United States. It's even blinged out in bigger is better Texas style with 10,000 ornaments and 250,000 lights.

Indianapolis' holiday centerpiece at Monument Circle is 284 feet tall and is created by massive strings of lights connected to the Soldiers and Sailors Monument. It claims to be the tallest "tree" in the world. It's also the only Christmas tree that you can ride to the top of for a reindeer's eye view of the twinkling lights.

In Ohio, the Toledo Zoo's glittering 85-foot live tree is illuminated with 35,000 lights. To keep things even greener than the tree itself, the zoo has bicycles connected to a power grid so that visitors can help keep some of the Christmas lights at the zoo lit without gobbling up natural resources.

The Coeur d'Alene Resort in Idaho calls their massive 161 foot evergreen "The World's Tallest Living Christmas Tree." It's tricked out with 30,000 lights, and is the centerpiece of a light show comprised of 1.5 million lights, one of the biggest lights displays in the country.

(STAN HONDA/AFP/Getty Images)

This feed contains the video's "New York's Rockefeller Center Christmas Tree Switched On" info API

Desiree Landers Miller:This tree takes one full month to put together and you can walk inside of it to see some animatronics on display!

pixgirl922:The world's biggest Christmas tree lit every year from early December to early January in Gubbio Italy.