Rob Ford Loses Job, Twitter Goes Crazy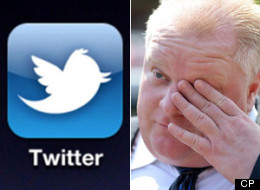 Toronto Mayor Rob Ford is losing his job thanks to a court ruling finding he violated conflict of interest rules.
Twitter users, who have long played spectator to Ford's antics as mayor, have been quick to react.
Some have expressed joy, others relief and still more hope for Toronto's future. Read some of the best posts in the gallery below.
Sorry this #fordcourt verdict is taking so long. The judge was coaching football this morning and will get around to it soon.

Rob Ford got kicked out of mayors office? WOWWWWW!! Hes hopping on that gravy train right back home.

rip rob ford. stung by a hoard of vicious gravy wasps.

Now I await all Rob Ford memes. #topoli #comeatmebro

Oh, my. Rob Ford has been removed from his office as mayor. Toronto politics just got rather interesting. http://t.co/Ltpmkac6

Rob Ford needs new business cards asap!

Terrifying thought: Governor of the Bank of Canada job is open. Rob Ford is looking for a job. ARRGGHHH! #Cdnpoli

BREAKING: Toronto Mayor Rob Ford found guilty of violating conflict of interest act, removed from office http://t.co/o0BBzIgp #topoli

#topoli Imagine if #toronto invested as much time and attention to transit financing as we spend distracted by @TOMayorFord latest antics.

Its a sad day for hard working comedians throughout Toronto. It appears Rob Ford's been booted from office (pending appeal) #RobFord #TOpoli

No more coach/mayor Ford! #topoli

How does it work in TO when a mayor finishes early? Is there a bielection or will the deputy step up as acting mayor? #fordcourt #TOpoli

Very exciting day in Toronto- and it has nothing to do with football. Let's fix this and make sure it never happens again. #TOpoli

Hey #Toronto, #RobFord might be out of office now so get yourselves educated about the issues and make informed choices. #topoli #onpoli

Who's going to drive the gravy train in the parade :(. #TOpoli #RobFord

Watching the Rob Ford circus is more fun, but Carney leaving Canada for England is bigger and more important news #topoli

Oh boy - we're gonna see Jabba the Mayor kick it into serious victim mode now! #RobFord #TOpoli

Also, Rob Ford is trending worldwide. (Let's hope just this once and never again.) #TOpoli

If Rob Ford and Dalton McGuinty just traded positions, Toronto would have subways all over the place. #topoli #onpoli

I wonder if Rob Ford will appeal the decision or leave quietly with his last shred of dignity. #TOpoli

On the otherhand Doug Holyday will make an excellent Interim Mayor for #toronto #topoli #tocouncil

Let's hope Ford can and does run again soon. Then Toronto can turf his partisan, ignorant ass in the most clearly democratic manner. #TOPoli

Have You Driven a Ford (out of office) Lately? #topoli #fordcourt
A tired-looking Rob Ford appeared before dozens of reporters at City Hall on Tuesday afternoon. Ford made a brief statement to the media and took no questions. A full text of his statement:
Good afternoon everyone. I was elected two years ago by the people of Toronto to do a job. We have accomplished a lot in the past two years. But, that job isn't finished yet. I respect the Court's decision that was released yesterday. My decision to appeal is not a criticism of the Court. But, I feel it is important to work through the appeal system so I can continue to do the work I was elected to do. This entire matter began because I love to help kids play football. When this came to Council for the vote in question, I felt it was important to answer the accusations that had been made against me. I was focused on raising money to help underprivileged youth. I never believed there was a conflict of interest because I had nothing to gain. And, the City had nothing to lose. But, I respect the court's decision. Looking back, maybe I could have expressed myself in a different way. To everyone who believes I should have done this differently – I sincerely apologize. The people elected me to bring respect for taxpayers back to City Hall, and I will keep working to do exactly that for as long as I can – or, until the people elect someone else to do the job. Thank you. Unfortunately, that is all I can say at this time.
Ford at times appeared close to tears while he was delivering the statement. His voice appeared to break a few times and he was quickly escorted out of the room by his press secretary.