10 Best Video Game Soundtracks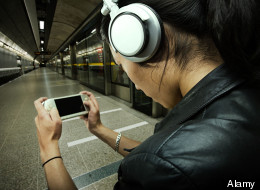 It's not just the gaming -- the hyper-jumping, mega-blaster shooting, sword-fighting or robot-crashing action -- that makes a great video game.
The best video games also have rich characters you feel emotionally invested in, smart plotlines that keep your attention, and, in an area that's constantly underrated, great musical scores.
Twin the right music with the right video game and you have something you'll not only want to hear for 80, 90, 100+ hours of gameplay, but something that you could genuinely consider "classic" music -- whether of the orchestral variety, or "classic" in the sense that it's timelessly awesome.
We rummaged through the boxes of our old gaming systems (Sigh,Sega FYI Genesis is 24-years-old now) and classic cartridges to determine the best video game soundtracks.
Here are our results:
10 Best Video Game Soundtracks
Link's quest to unite the Triforce, save Princess Zelda and slay evil Ganon has required a constantly evolving soundtracks over the past 25 years. As well, aside from Final Fantasy, no other game can boast a North American orchestra tour.

There was nothing like dodging, dribbling and firing the ball through the goalkeeper along to Blur's "Song 2" and then getting knocked down again to Chumbawumba's "Tubthumping" in FIFA 98. The soccer series was one of the first to pair remixes and electronic music with gameplay and has maintained that long tradition ever since. Sports games and music licensing have never been the same since.

With all the extra time you spend levelling up your characters in the Final Fantasy series, epic music is key. Nobuo Uematsu must have known this when he composed the music for the first title, because they had him back for eight more. The Final Fantasy series has spawned 24 albums and nine singles in various global markets, and the soundtracks are even available as sheet music. SEPHIROTH!

Grand Theft Auto: Vice City had a significant Miami-themed soundtrack, but the San Andreas iteration integrated music like never before with six 1992-era L.A.-centric radio stations, all while loosely basing the game around the life of gangster rap icon, Eazy-E. A six CD box set of the soundtrack was also released through Interscope Records.

From the somber Gregorian-chanting monks of Stift Heiligenkreuz to the warbling London Bulgarian Choir, the composers of Halo's soundtracks (Michael Salvator, Steve Vai, Marty O'Donnell and currently Neil Davidge of Massive Attack) have consistently delivered stern, awe-inspiring soundscapes that keep gamers alert and cringing at the thought of yet another headshot.

The tinny trills of Megaman's soundtrack brought both chills of excitement and tears of agony to young gamers. When levels got a little hairy, it was sometimes helpful to flat-out mute the music to focus on gameplay.

American-made hip-hop interpreted for the Japanese gaming market gave life to cut-out style animations of Parappa, the hip-hop dog, feeding the rhythm-based gaming craze. Millions "Kick, Chop, Punch"-ed their tears away with Master Onion!

The skateboarding islander Alex Kid just wasn't cutting it as Sega's mascot and so Sonic the ring-hoarding Hedgehog was born. The team knocked it out of the park with a soundtrack as memorable as the game itself. For the hardcore fan, check out the obscure Sonic related J-Pop tune remixed by Akon titled "Sweet Sweet Sweet Akon Mix 06."

Freed from the fetters of clunky 8-bit pixels, a smooth-edged Mario burst to life with a quirky soundtrack punctuated by springy sound effects and platform-hopping bliss.

Tetris?! Yes, Tetris. Tetris makes the list for being what is probably the most recognizable game soundtrack ever created. The game had such a wide audience at its peak in 1988 that you could probably ask your grandpa Yevgeni to hum music option A (Russian folk song, the Korobeiniki), and he'd pull it off with a smile.