Jeremy Cooperstock United Airlines Lawsuit: Canadian Prof In Legal Battle Over Complaints Website
McGill University engineering professor Jeremy Cooperstock is no fan of flying the friendly skies.
For the past 15 years, Cooperstock has maintained Untied.com, a website dedicated to collecting customer and employee complaints about United Airlines.
Now the Chicago-based airline is suing Cooperstock, saying his recent website redesign infringes on its trademark and is "confusingly similar" to United's own site.
His website mimics the look of an airline booking site, with pull-down menus on the side to choose departure and arrival times. Small lettering at the top of the page declares, "This is NOT the website of United Airlines."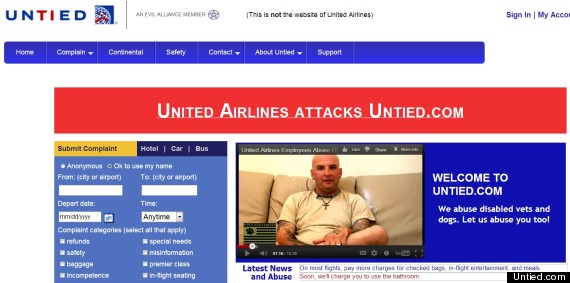 "Welcome to Untied.com," the website states. "We abuse disabled vets and dogs. Let us abuse you too!"
The quip is in reference to recent news reports of disabled U.S. veterans complaining about their treatment at the hands United employees.
One veteran recently complained staff kicked his seeing-eye dog and asked him if he was "retarded."
Another disabled veteran filed a lawsuit against United, alleging airline staff forced him to sit in his own urine after his catheter bag broke.
STORY CONTINUES BELOW SLIDESHOW
People With Disabilities & Airlines
A British man recently was forced to carry his disabled wife on board a Ryanair flight departing Luton, England for France in July 2008 after the airline's flight crew refused to help, citing company safety and health regulations. The flight crew said it was Ryanair policy to leave behind passengers who could not board themselves. The Integer Club/Flickr

In November 2009 a man bought a last-minute ticket from Southwest Airlines to attend his uncle's funeral, but when he arrived at the ticket counter the agent looked at him and told him he needed to buy a second seat. The problem was, the flight was fully booked, and apparently there were no alternative flights. Kevin Coles/Flickr

A young boy who uses a wheelchair flew to New York in August 2010 to fulfill a dream of racing through Central Park. Except, upon arrival, he discovered his wheelchair had been ruined during the Air Canada flight. He was stranded at the airport, and the Twitter-verse was ticked. Daquella manera/Flickr

Korean Airlines denied a woman with Stage 4 breast cancer a seat on a South Korea-bound flight in May 2011 because she "looked too frail," despite having notes from two doctors saying she was clear to fly. Alaskan Dude/Flickr

The family of a two-year-old with Down Syndrome, who also has a rare disorder, was told in June 2011 that the tot's collapsible stroller could not be brought on board. To add insult to injury, the stroller was damaged in cargo. Graham and Sheila/Flickr

A quadriplegic Colorado man says he was humiliated after he was forced off a Frontier Airlines plane because a pilot said it wasn't safe for him to fly in June 2011. cliff1066™/Flickr

Dawn Wilcox, an Army veteran who uses a wheelchair, said that American Airlines forced her to sit in urine-soaked clothes when she was unable to make it to the bathroom in November 2011. Screenshot/KWTX

Lynn McKain was given the all-clear to fly from her doctor as she planned for a dream vacation in Belize. McKain and her family purchased five non-refundable tickets for $4,200 before she learned that her cancer had returned. US Airways originally declined a full refund, but changed it's mind in November 2011 due to public outcry. Screenshot: WUSA

A man called out Alaska Airlines in an August 2012 Facebook post as "the worst of humanity," after allegedly witnessing a man with Parkinson's disease miss a flight because numerous airline personnel refused to give him extra assistance.
Cooperstock is fighting back against United, criticizing the two lawsuits filed against him in Canadian courts as "SLAPP suits" — an acronym for strategic lawsuit against public participation.
"They are trying to shut down my site instead of dealing with their problems," Cooperstock said, as quoted by UPI. "If they had put as much effort into improving their service as into these SLAPP suits, there'd be no reason for the website."
But United denies it's trying to shut the site down, saying it only wants to stop Cooperstock from infringing its trademark and from publishing contact information to United employees, the Chicago Tribune reports.
Cooperstock says he only publishes publicly available contact info to United employees. He argues his website is protected under Canadian law.
"Under [the] Canadian Copyright Act, parody or satire constitutes fair dealing and does not infringe copyright," Cooperstock wrote on Untied.com.
"The play on United's name and logos is allowed for the purposes of parody and satire."
His site states that "Untied.com has received hundreds of emails from United employees who were abused by United Airlines including discrimination and retaliation against whistleblowers ... who have chronicled United's lack of concern for safety and passenger security."
A United Airlines spokeswoman told the Tribune the airline asked Cooperstock to alter the look of his site to make it look less like United's own, and only went to court when the McGill prof refused.
Cooperstock at one point offered to work as a customer service consultant for United, the Tribune reported, but the airline turned him down.
United has filed lawsuits against Cooperstock in both a Canadian federal court and in the Quebec Superior Court.