Althia Raj Joins The National's At Issue Panel To Talk Byelections, Rob Ford And Mark Carney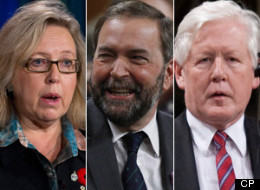 Althia Raj joined the At Issue panel on CBC's The "National" Thursday night to talk about byelections, Mark Carney and Rob Ford.
Raj, who is The Huffington Post Canada's Ottawa Bureau Chief and a frequent guest on the panel, argued the results in Calgary Centre, where Conservative Joan Crockatt won with just 36.9 per cent of the vote, will spark renewed calls for co-operation between Liberals, New Democrats and Greens to avoid vote-splitting.
Do you think the parties on the left should work together to beat the Conservatives? Leave your thoughts in the comments below.