Winter Weddings Trends: The Bridal Sweater Makes It Debut

If you're going to a winter wedding look out for this new trend: the bridal sweater. No, not a dainty cardigan or fur stole, but a full-on wool jumper or cable knit crew neck pulled over a traditional bridal gown. We first spotted the look in New York magazine's winter 2013 weddings issue and admit we kind of like the combination of frou-frou girliness and cozy practicality.
A striking contrast between evening wear and everyday, the bridal sweater is one way to make your wedding a more relaxed, easy-going affair. Brides are pulling them on for after-ceremony events such as picture-taking and parties--this way their guests still get to see their beautiful wedding dress during the ceremony.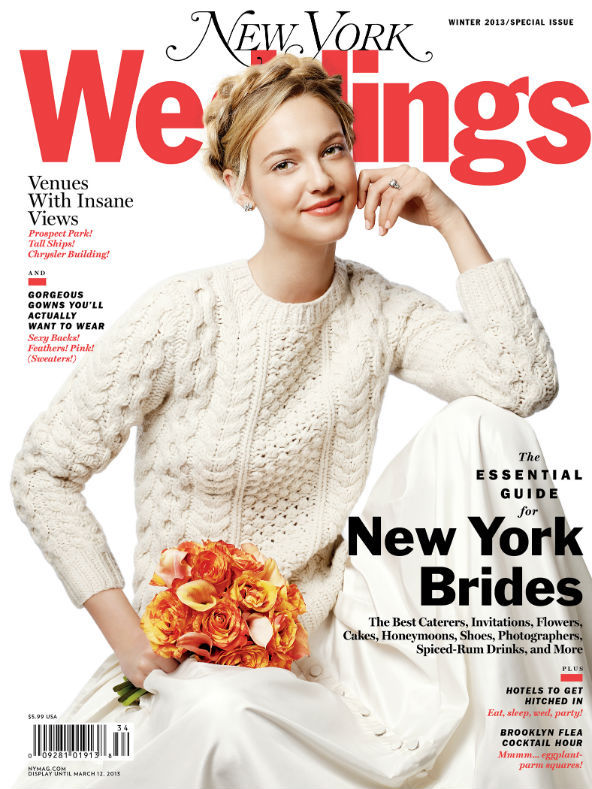 RELATED: Winter Wedding Ideas
If you want to recreate "that special blue sky on a crisp winter night, take it to the walls with Par Can lights. It's the least expensive way to light up a room at $15 to $30 per light," when it comes to rentals, Goldberg says. To save even more money, look online since brides often sell Par Can lights after their weddings are over. "You can pay it forward when you're done! Sell them again and gain back your investment." Goldberg notes that black is the typical color for a Par Can, but "you can use a heat resistant white or a multi-color spray paint line to match the room. You can also buy light bulbs that have a remote, which allow for millions of colors with just a tap of the remote. This runs anywhere from $3.50 to $11 each." Related: Here Comes The Budget Savvy Bride: 5 Tips for Saving $ While Saying I Do

Just because you might chose to have a winter wedding doesn't mean you have to stick with winter white. Goldberg recently worked on a wedding that used white, but also mixed in chocolate and blue colors.

"If you like branches and you have decent height in the reception area, go for curly willow or a Manzantia tree-like branch. You can spray this white, silver, or keep the natural state. You can also make pomander balls (aka kissing balls) in white. Wide carnations are the most reliable and an easy way to make this ball," Goldberg says, noting that carnations are generally inexpensive and a new type of carnation that resembles a rose has become quite popular. Those who use branches may want to hang snowballs or snowflakes from them using ornament hooks. "Attach them to the pomanders on the trees and add candles in frosted glass with a mirror as its base. Fill the glass mirror enough to show some reflection of the glistening light," Goldberg suggests. Related: Choosing Your Wedding Colors: What to Consider

For couples who chose to incorporate white in their theme, make sure to use white linens so you can light up the table with LED lights, giving the room a pristine winter white effect. "You can take the white and turn it into something mystical," Goldberg says, adding, "It changes everything and takes the focus off areas that you may not like, such as the wall color, carpet, and yes, even the chairs -- especially ones with covers!" According to Goldberg, an LED light block rents at around $20 to $35 per table, but some DJs can provide them upon request. "Textured linens can also (be used to) make something as simple as multi-cylinder vases rapped with a ribbon. Close the cut portion off by using a hot glue gun," Goldberg says. You should then cover the seam with a snowflake or another type of decoration. Take the extra snowflakes and some raffia and use them to decorate napkins. The price tag for the cylinder vase, one spool of ribbon (1.5 to 3 inches wide), and a pillar candle runs about $10 per table.

Those who celebrate Christmas may want to put tiny pine trees on the tables. To give the pine trees some extra pizzazz, spray them with fake snow or glitter. Then, surround the trees with votives and pillar candles. This is certain to "bring the soft feel of winter indoors in an organic or enhanced organic way," Goldberg says. Whether you choose to go with a vase or a pine tree centerpiece, "don't forget the cotton round that most use under their Christmas tree. That gives feel of fresh snow around the centerpiece. Sometimes it costs less than $1!" For a special touch, add crystals or decorative pieces to the trees and napkin rings.
More stories from TheKit.ca:
How to wear peplum the right way
Thierry Mugler celebrates 20 years