Something stinky is happening east of Edmonton and one property owner is trying to flush out what happened.
Randy Nemirsky was left scratching his head after thieves made off with a large outhouse from his farm.
The outhouse, which weighed between 800 to 1,000 pounds, was bolted to the ground and would not have been an easy steal, Nemirsky told CBC Edmonton.
"I think at least four to six guys had to come here to do this ... two guys? No way they could do this," he said, looking over the hole where the outhouse once stood.
Nemirsky and his son Nick spent time last August rebuilding the outhouse on the farm near Lamont, 60 kilometres east of Edmonton. They tore down the original outhouse, which had been built in 1936, and built an improved one in its place.
The new structure stood eight feet tall and was made from plywood and two-by-fours, theEdmonton Journal reports. It was fashioned with a soft-seat cover for the toilet and an 80-year-old door from his mother's basement.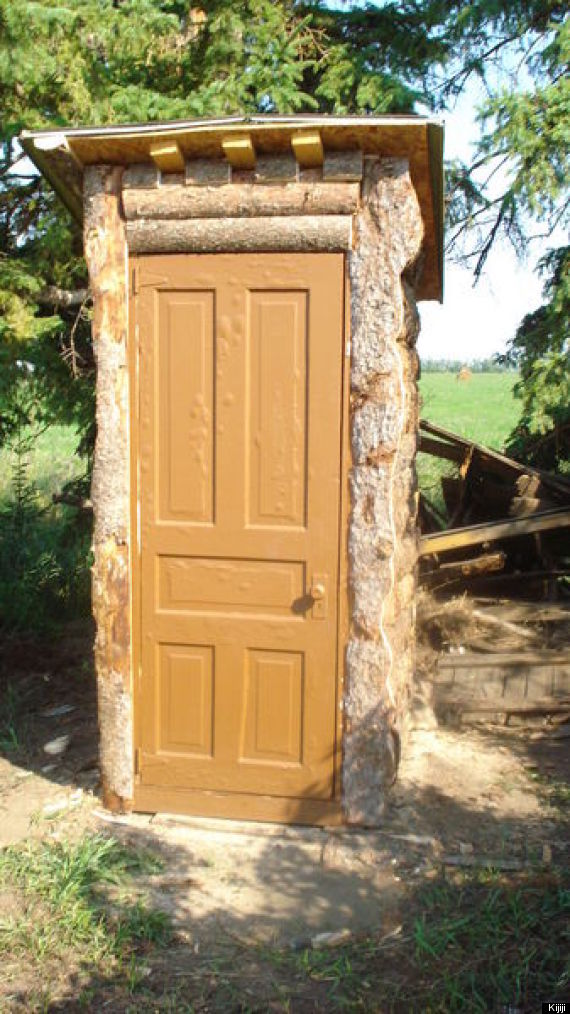 Nemirsky is offering a $500 reward for the return of his handmade latrine. But despite an ad on Kijiji and plenty of support from the community, there have been no leads.
"You don't steal a toilet. You maybe tip it over on Halloween, but why would you steal a man's toilet?" the Edmonton Journals quotes Nemirsky, 50, as saying.
"It was so unique to have it there."
He told the CBC the structure cost about $1,000 to build, including paint and siding.
"I can build another one, but how low can you go to steal a man's privy?"
For now, Nemirsky plans to keep an eye out for his stolen throne, but expects he'll have to build a new one - one that's harder to swipe.
Also on HuffPost:
Loading Slideshow
In Case You Forgot...

...Sometimes people find giant snakes in their toilets. Now, go ahead, have a seat!

The Definition Of America?

We don't even know why we put a question mark there. This is the definition of America.

Don't Sit Down

Yikes!

Watching You

Not exactly what we want staring us down as we enter the bathroom.

Lighthouse Toilet

Perfect for anyone who's ever dreamed of relieving oneself in a light house.

A Gory Scene

You probably won't make it to the toilet in time after seeing this.

King Kong Cover

All right.

VIP?

If by "VIP" you mean "literally anyone," then yes.

Playboy To The Max

Be sure to keep a copy of Playboy nearby to really complete the look.

Vintage Flair

You guests will be in the bathroom twice as long as they attempt to read the entire lid.

Kitty Seat

Those kittens look really sad. We think we know why.

Wrong On So Many Levels

Hasn't it been said that he died on the toilet?

Bear Down

Have you ever seen a bear go to the bathroom? It's horrific.

Elmo Playing Football

Now we're just confused.

High School Musical Cover

Please stop.

Flamin'

We're sick of seeing this print on cars, T-shirts and just about everything else. But now this?

Puppy Potty

For someone who REALLY loves dogs.

Hardcore Toilet Cover

Show your guests how tough you REALLY are.

Will This Make You Remember?

This could actually get confusing.

Too Many Wolves

<a href="http://en.wikipedia.org/wiki/Three_Wolf_Moon">But where is the moon?</a>

Turtle Cover

Cute, but why?

Spongebob Cover

Who lives in a pineapple under your... toilet?

Dogs & Leashes

There are so many better ways to show the world you love pugs.

Smurf Cover

Imagine seeing this in someone's house who DOESN'T have kids.

Seal Cover

Now if this was a tribute to <a href="http://www.huffingtonpost.com/2010/01/05/crasher-seal-photobombs-g_n_411767.html">crasher seal</a>, then we'd be into it.