Rogers Twitter 'Parody' Account Suspended: David Doel Denies @RogersNoHelp Impersonated Telecom Giant (UPDATE)
A Toronto man says Rogers Communications is behind the shutdown of a parody Twitter account that mocked the cable and wireless giant's customer service.
David Doel posted online a message he received from Twitter, notifying him that his account, @RogersNoHelp, "is engaged in non-parody impersonation." Doel says his account is an obvious parody of @RogersHelps.
"Although Twitter firmly believes in the freedom of expression, impersonation that misleads, confuses or deceives others is against our Rules," the Twitter notice stated, adding that the suspension was "temporary."
UPDATE: Twitter has reinstated @RogersNoHelp, after several days of suspension. David Doel said in an email to HuffPost the social media site was unclear on why they reinstated the account. He says Twitter had not responded to his earlier questions about what he would need to do to end the suspension.
Doel told The Huffington Post Canada he believes Rogers made the request to have the account suspended.
Rogers could not immediately confirm or deny whether it had filed a complaint against the Twitter account. A spokesperson for the company said it's investigating the matter.
"We have a sense of humour and don't have an issue with parody accounts," senior social community manager Mary Pretotto said in an email. "At the same time, the courts have made it clear that brands that don't protect their trademarks risk losing them, so we do take steps to protect our logo and other brand marks. We also respect the terms of conditions of third party social properties."
(STORY CONTINUES BELOW SLIDESHOW)
@RogersNoHelp shut down: Twitter reacts
Rogers sent Twitter a complaint about the account @RogersNoHelp even though it only has 24 followers and is clearly labeled as a parody. lol

Twitter blocks parody account: @RogersNoHelp , obviously buckling to pressure from @RogersHelps David and Goliath...again. Shame Rogers!

@OpenMedia_ca I'm not sure how people could confuse @RogersNoHelp with @RogersHelps. Does #Rogers believe its customers are dumb?

@RogersHelps Just had the @Rogersnohelp parody account shut down. So instead of trying to make customers happy, they CENSOR the complaints

What's the matter, @RogersHelps? Can't take a joke, eh? http://t.co/5kMcViZZ

@RogersNoHelp. My favourite parody twitter account! Bring it back. #rogersishorriblybad #wheresthecompetition?

So @rogers and @rogershelp shut down parody @rogersnohelp. Hmm or you know, they could improve service and lower prices? Nahh

I got confused and follow @Rogersnohelp instead of @RogersBuzz. Because since they don't help I figured it was legit #Sarcasm #freespeech

@mfreedmn_97 http://t.co/qReCvGOh @RogersNoHelp This made my day, to hell with Rogers.

Twitter defining parody is scary! RT @closetgeekshow: glad to see @Dyscultured on top of the @RogersNoHelp issue brought up on reddit today

@RogersNoHelp closed. It only has 24 followers and labeled parody.@RogersHelps this is not how to go about things. http://t.co/GZWLuEef

RT @heshmalesh: @RogersHelps Just had the @Rogersnohelp parody account shut down. So instead of trying to make customers happy, they CENSOR the complaints

@RogersNoHelp http://t.co/c5BylNW1
Doel said he didn't believe anyone mistook his account for an actual Rogers customer service account. He asserted the Twitter account's description clearly stated it was parody.
But his pattern of replying to Twitter comments directed at the real Rogers customer service account may have upset some Tweeters. One user responded to Doel's comments with, "Did I ask for your input? Go f*** yourself." (See screenshots below.)
"What really struck me was that my account hadn't even really gotten off the ground yet," he wrote in an email to HuffPost. He had launched the account in November of last year. "I had been tweeting here and there, mostly individual parody tweets but some retweeting of Rogers customers who were complaining to @RogersHelps and I would add my witty reply to the tweet."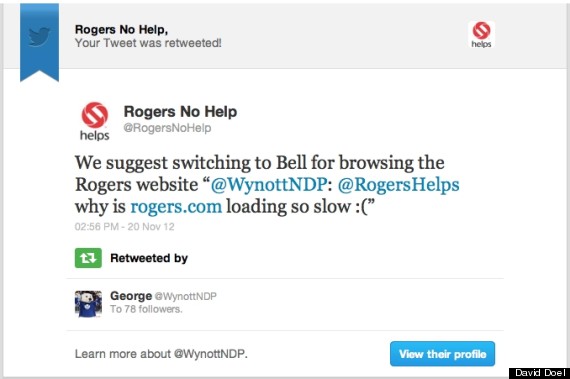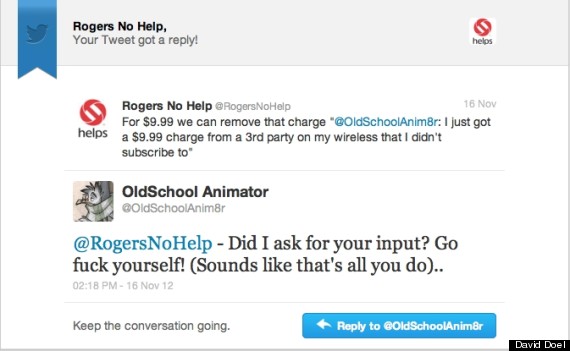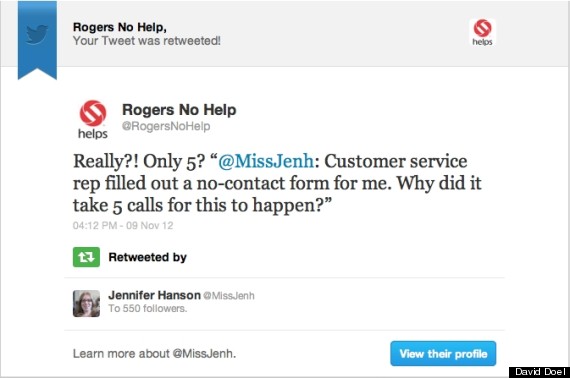 Doel's assertion was met with negative reaction on Twitter, where some users accused Rogers of "censorship."
On a discussion thread on Reddit, Doel said he was initially contacted by Twitter over the matter of the avatar he was using for the account — the Rogers logo, with a red slash through it. Though he said his version of the logo is fair game, he said he wrote Twitter that he would be willing to change it to address the site's concerns.
"I don't think Rogers enjoyed my brand of humour at their expense, but being clearly labelled in the bio as a parody from the start and a name like 'RogersNoHelp' ... it makes me wonder what the basis for the suspension really is."
Doel said he would continue tweeting through his own, personal Twitter account.