Les Miserables Meets Pauline Marois On 22 Minutes (VIDEO)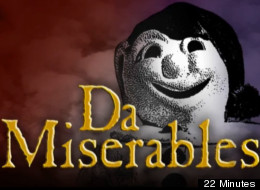 If you were among the many viewers who wished the new "Les Miserables" movie were something else (anything else, really), then look no further -- "22 Minutes" has an answer for you.
Imagine Les Mis is set in Quebec, now imagine Fantine is Pauline Marois. Now laugh.
Anne Hathaway may have won the Golden Globe, but, for many, her performance was unintentionally hilarious. At least Cathy Jones' turn as Marois is intentionally funny (and mercifully short in comparison).
Marois was recently the only premier not to appear on the "22 Minutes" Christmas Special, but that isn't dissuading Canada's favourite comedians from spoofing Quebec's premier.
The province's separatist government can be a source of sadness for many Canadians, so it's nice to see the show find the light amid the gloom.
This Hour Has 22 Minutes airs on CBC TV Tuesday nights at 8:30 p.m. Catch more clips of the show on Facebook and Twitter.